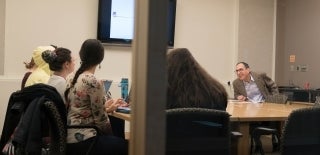 Certificate in Communication and Media Policy
Certificate in Communication and Media Policy
Annenberg offers a certificate for any Penn graduate student who seeks an understanding of social communication and media policy.
About the Program
The Annenberg School for Communication offers a Certificate in Communication and Media Policy that can be taken in conjunction with any other graduate program offered by the University of Pennsylvania. We invite applications from existing Penn students who want to make an understanding of social communication and media policy part of their intellectual toolkit.
The phrase media policy has wide-ranging implications. It can refer to the laws and regulations governments pass regarding the technologies and industries of communication. It also can mean the strategic approaches taken by organizations and industries toward audiences and governments that result in the production, distribution, and exhibition of messages via various new and old technologies.
The certificate program aims to give students a concentrated feel for the intellectual excitement of that environment and field of study. The application therefore requires that students interested in the certificate consider what communication and media policy means to them and how they believe the five courses they want to take toward the certificate will help them grapple with particular issues that emerge from that understanding.
The Annenberg School is a world-renowned hub that values interdisciplinary thinking for investigating the myriad of questions that flow from these broad arenas of social action.
The Requirements
To qualify for the certificate, a student must successfully complete five courses in the general area of communication and media policy, earning a GPA of at least 3.5 in those courses. Students select three media policy courses to be taken at the Annenberg School and the remaining two can be taken at any Penn graduate school.
An application to the certificate program must be submitted before enrolling in the classes. Students should list the five courses they would like to include and explain briefly how those courses relate individually and collectively to the area of communication and media policy. Students may subsequently change the courses with the approval of the Associate Dean for Graduate Studies.
Annenberg School Courses
Students must complete three courses in topics related to media policy. These courses may include (but are not limited to):
Introduction To Media Policy
Mass Media Industries
Advertising in the Digital Age
History of Media Research
Approval for Certificate-Related Courses
Students must obtain approval for the two courses from outside Annenberg by submitting each syllabus to Annenberg's Assistant Dean for Graduate Studies. Approval requests for Annenberg courses do not require syllabi. If the petition takes place after the initial application for the certificate, the student must explain how those replacement courses relate individually and collectively (as part of the five-course cluster) to the area of communication and media policy.