CARGC Colloquium: James Yékú, University of Kansas
February 24, 2022
1:00pm-2:00pm
Audience
Open to the Public
"Nigeria's Twitter Ban and the Logic of Cultural Netizenship"
Click here to register for the event on Zoom
Photo credit: Jeremy Bezanger / Unsplash
About the Talk
Its ban of Twitter in 2021 marked the Nigerian state as an analog entity that forbids the agency of its digital citizens. In this talk, James Yékú will track the implications of this ban in the context of what he has called cultural netizenship, the organizing rubric for visual articulations of internet citizenship that often manifests through the performance of popular culture in an ontologically visual social web. Unlike the normative signals of netizenship as a performance of citizenship and participatory politics online, cultural netizenship evokes the deployment of visual and popular culture on social media to push back against the boundaries of hegemonic culture. Based on social media-enabled cultural productions that underpin meme culture as the most immediate and condensed mode of cultural and, especially, political commentary on digital media, cultural netizenship as a reiteration of the generative materialism of African popular arts, Yékú will argue, is one notable and subversive practice in a complex system of relations between an analog state in Nigeria and digital subjects.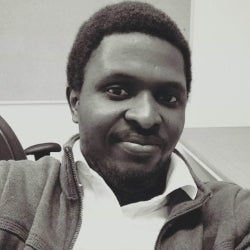 About the Speaker
James Yékú is an Assistant professor of African and African American Studies at the University of Kansas where he leads the African digital humanities program. Yékú studies the digital expressions of the literatures and cultures of Africa and the African diaspora, focusing on the African articulations of the digital cultural record. He is the author of the forthcoming monograph Cultural Netizenship which examines the social media-based cultural productions as activist practices.
Disclaimer: This event may be photographed and/or video recorded for archival, educational, and related promotional purposes. We also may share these video recordings through Annenberg's website or related platforms. Certain events may also be livestreamed. By attending or participating in this event, you are giving your consent to be photographed and/or video recorded and you are waiving any and all claims regarding the use of your image by the Annenberg School for Communication. The Annenberg School for Communication, at its discretion, may provide a copy of the photos/footage upon written request.