Chelsea Butkowski studies how people use everyday media technologies and practices to make sense of their own identities, especially during periods of extraordinary political and social change.
Chelsea Butkowski investigates the personal politics of digital storytelling and media representation in shaping online communities. She examines how media technologies define experiences and recollections of mundane digital routines and historic events, such as elections and crises. Butkowski draws from a background in art history, material culture, and museum studies to situate contemporary digital and visual media within wider historical contexts of communication practice. Drawing on a feminist approach, the questions that drive this research call for multiple methods, including content analysis and in-depth interviewing that involves participants in the analysis of their own media ecologies. At the CDCS, Butkowski will extend her dissertation research on self-making and social media during the COVID-19 pandemic.
Butkowski holds a Ph.D. in Communication from Cornell University, an M.A. in Communication from University of Illinois at Urbana-Champaign, and a B.A. in Communication and Art History from the State University of New York at Geneseo. Her research on technology, performativity, and media effects is published in a number of leading academic journals, including New Media & Society, Social Media + Society, Feminist Media Studies, Visual Communication, Sex Roles, and Communication, Culture & Critique, among others.
During her time at the CDCS, Butkowski will extend her research on practices and recollections of digital self-making during the COVID-19 pandemic. This research uses the social media scroll-back method, inviting interview participants to scroll backwards through their social media profiles, to examine how pandemic safety regulations such as mask-wearing and social distancing have affected the ways that ordinary people share their lives online. She will use a comparative approach to extend her existing interview corpus, which focuses on residents of New York State, to additional geographic regions and associated norms of pandemic safety. This work will contribute to the ongoing development of Butkowski's book project on digital self-making at various intersections of political contestation, historic events, and everyday life.
Education
B.A., State University of New York at Geneseo, 2015
M.A., University of Illinois at Urbana-Champaign, 2018
Ph.D., Cornell University, 2022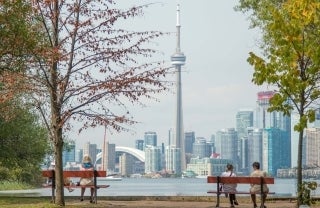 News
The International Communication Association will hold its 73rd annual conference in Toronto, Ontario, Canada.