Claire Wardle studies the impact of misinformation on society. Her particular focus is the role journalism plays, both in terms of amplifying falsehoods but also the journalistic interventions that can slow down conspiracies and rumors.
Claire Wardle's research sits at the increasingly visible and critical intersection of technology, communications theory, and mass and social media. Her expertise lies in misinformation, user generated content, and verification. She also has significant research experience, with an emphasis on qualitative research methodologies. Wardle is a sought-after media commentator and speaker on issues related to the impact of social media on the quality and spread of information.
Wardle is a co-founder and the U.S. Director of First Draft, the world's foremost nonprofit focused on research and practice to address mis- and disinformation. Under her leadership, First Draft has emerged as the global leader in combating mis- and dis-information online as a "think and do" tank. First Draft has conducted expansive on-the-ground work during international elections to identify false news stories most likely to spread, and blunting their force.
Previously, Wardle was a Research Fellow at the Shorenstein Center on Media, Politics and Public Policy at the John F. Kennedy School of Government at Harvard University. Before that, she was the Research Director at the Tow Center for Digital Journalism at Columbia Journalism School, head of social media for the U.N. Refugee Agency, and Director of News Services for Storyful. She has worked with newsrooms and humanitarian organizations around the world, providing training and consultancy on digital transformation. Wardle was responsible for the design and development of the social media training program at the BBC, one that has been taken up by over 3000 staff, from senior managers, journalists, content producers, PR and Communications staff.
She is one of the world's leading experts on user-generated content, and has led two substantial research projects investigating how it is handled by news organizations. Wardle also sat on the World Economic Forum's Global Agenda Council on the Future of Information and Entertainment.
Wardle received her Ph.D. from the Annenberg School in 2004.
Education
Ph.D., 2004, University of Pennsylvania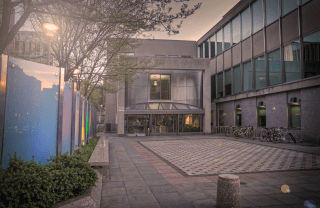 News
This accomplished group specializes in studying topics that include persuasive health messaging, Black feminism, media policy, and much more.