Hana Masri's research examines rhetorics of waste in the politics of human disposability, with a particular focus on waste's matter as a communicative force in contexts of migration, colonialism, and environmental racism.
Hana Masri earned her Ph.D. in rhetoric and language from the Department of Communication Studies at the University of Texas at Austin in 2020. Her work examines matter's role in rhetorical constructions of migration, citizenship, sovereignty, and settler colonialism in contexts from the U.S.-Mexico borderlands to the Middle East. She is particularly interested in the ways that what gets designated trash can function both to render groups of people as waste or surplus and, at times, challenge such designations. This work emphasizes how waste communicates global discourses of human disposability across geopolitically distinct contexts, while also serving as a creative resource to communities and movements that contest modernity's hierarchies of human value. Her research on these topics and on feminist studies, queer migrations, environmental racism, and social movements more broadly can be found in QED, Women's Studies in Communication, and Scholar and Feminist, as well as forthcoming edited volumes on queer migrations and Middle Eastern and North African communication studies. Her research on border "trash" in Arizona and the politics of sewage in Gaza has also received top paper awards from the National Communication Association in 2016 and 2018.
Education
B.A., Macalester College, 2013
M.A., University of Wisconsin — Madison, 2016
Ph.D., University of Texas at Austin, 2020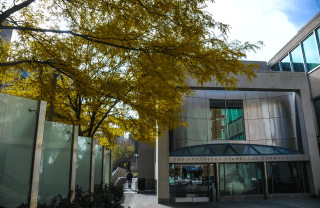 News
Learn a little bit about the research interests of our new postdoctoral fellows and visiting scholars.