Kharoll-Ann Souffrant's research explores digital feminist activism, race, anti-Black racism, misogynoir, gender, and power dynamics in traditional/mainstream media within the #MeToo (#MoiAussi) movement in the francophone province of Quebec (Canada).
Souffrant's doctoral research focuses on sexual violence experienced by Black women and girls in Quebec connected with the #MoiAussi (#MeToo) movement in this Canadian province. Her work seeks to counter this population's historical and ongoing invisibilisation and erasure in policy, research, intervention and prevention programs, and social and traditional media. 
A McGill University alumni, she is currently pursuing her doctoral degree in Social Work at the University of Ottawa. 
Souffrant has been recently selected as a 2020 United Nations Fellow for People of African Descent by the Office of High Commissioner of Human Rights in the UN International Decade for People of African Descent (2015-2024). In December 2020, she spoke at the United Nations in collaboration with the francophone chapter of Amnesty International on systemic racism in Quebec, Canada. 
Trained as a social worker, she has worked with populations with various psychosocial difficulties and in the health and social services network for multiple years. Her activism began as a kid. She is currently completing her first book to be published with Les Éditions du Remue-ménage in French. 
Souffrant has received multiple community and university awards for her commitment, including the Young Woman of Distinction award from the YWCA of Montreal, the Terry Fox Humanitarian Award, and the "Relève" award from the Order of Social Workers of Québec. She was named one of the most distinguished personalities of 2016 by the Journal de Montréal and ELLE Québec magazine. Winner of Black History Month in Montreal for 2020, Souffrant was included in a list of 100 Black women to watch across the country published on the Canada International Black Women Event. In addition, she was an Action Canada Fellow for 2020/21.
Education
B.S.W., McGill University, 2017
M.S.W., McGill University, 2019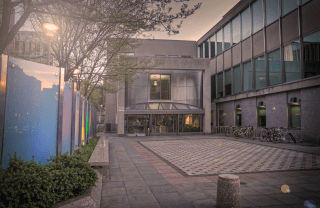 News
This accomplished group specializes in studying topics that include persuasive health messaging, Black feminism, media policy, and much more.