Klaus Krippendorff researches the role of language and dialogue in the social construction of reality.
Klaus Krippendorff's research focuses on the role of language and dialogue in the social construction of reality: identities, institutions, cultural artifacts, power, Otherness, and meanings; emancipatory epistemology (hermeneutics) of human communication and the design of technology; content analysis, semantics, pragmatics of social interaction, and related research methods; conversation theory, information theory, and cyberspace; and second-order cybernetics of complex communication systems and their reflexive, self-organizing, and autopoietic properties.
The following are links to lists of Krippendorff's publications, organized by subject area:
Click here to view software and information about Krippendorff's Alpha Reliability.
Education
Ingenieur (grad.), State Engineering School Hanover (Germany), 1954
Dipl. Design, Ulm School of Design (Germany), 1961
Ph.D., University of Illinois, Urbana, 1967
Selected Publications
"On the Reliability of Unitizing Textual Continua: Further Developments." Quality & Quantity, 2016.
Content Analysis: An Introduction to Its Methodology, Third Edition. Sage, 2013.
"Representation, Re-Presentation, Presentation, and Conversation" in (Re)presentations and Dialogue. John Benjamins, 2012.
"Agreement and Information in the Reliability of Coding." Communication Methods and Measures, 2011.
"Human-Centered Design: A Cultural Necessity." Collection 3, 2011.
The Content Analysis Reader. Sage, 2009.
On Communicating: Otherness, Meaning, and Information. Routledge, 2009.
The Semantic Turn: A New Foundation for Design. Taylor & Francis, 2006.
Design in the Age of Information: A Report to the National Science Foundation. North Carolina State University, 1997.
Design: A Discourse on Meaning. University of the Arts, 1994.
Information Theory: Structural Models for Qualitative Data. Sage, 1986.
A Dictionary of Cybernetics. American Society for Cybernetics, 1986.
Communication and Control in Society. Gordon and Breach, 1979.
The Analysis of Communication Content: Developments in Scientific Theories and Computer Techniques. Wiley, 1969.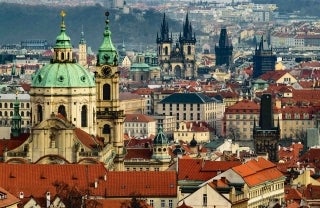 News
We've compiled a helpful list of all presentations being given by Annenberg authors.
Klaus Krippendorff on Video