Maori Karmael Holmes organizes film programs and exhibitions and writes about film and visual culture. She is also a director and producer.
Maori Karmael Holmes is a curator, filmmaker and writer. She is founder and Artistic Director/CEO of BlackStar Projects, which produces the widely-acclaimed BlackStar Film Festival and Seen: A Journal of Film and Visual Culture as well as other programs. A native of Los Angeles, she has organized programs in film at a myriad of organizations including Anthology Film Archives, Institute of Contemporary Art (Philadelphia), Lightbox Film Center, Museum of Contemporary Art (Los Angeles), The Underground Museum, and the Whitney Museum of American Art — where she organized screening programs in conjunction with the 2019 Biennial. As a filmmaker, her works have screened internationally including her feature documentary Scene Not Heard: Women in Philadelphia Hip-Hop (2006). She has also directed and produced works for Colorlines.com, Visit Philadelphia, and singer-songwriter India.Arie. She currently serves as Mediamaker-in-Residence at the Annenberg School for Communication and Curator-at-Large at the Annenberg Center for the Performing Arts. She is also a creative executive with Blackbird, working on media projects for social justice organizations including the Movement for Black Lives and 'me too.' International.
Previous professional positions include: Executive Director of ARRAY Alliance (2018), Director of Public Engagement at the Institute of Contemporary Art at University of Pennsylvania (2016-2018), and Associate Director at Leeway Foundation (2010-2014), in addition to positions with Painted Bride Art Center, Department of Media Studies & Production at Temple University, the Netter Center at the University of Pennsylvania, Philadelphia Independent Film & Video Association, Sony Music, and Washington City Paper. She has taught at Drexel University, Maryland Institute College of Art (MICA), Temple University, University of the Arts, and Villanova University.
Her writing has appeared in The Believer, Film Quarterly, Philadelphia City Paper, Philadelphia Weekly, Washington City Paper, and Alternet.org. Holmes contributed essays to the following books: We Inspire Me: Cultivate Your Creative Crew to Work, Play and Make (Chronicle, 2018), edited by Andrea Pippins; Pleasure Activism: The Politics of Feeling Good (AK Press, 2019), edited by adrienne maree brown; How We Fight White Supremacy: A Field Guide to Black Resistance (Nation Books, 2019), edited by Akiba Solomon and Kenrya Rankin; and Fresh, Bold and So Def (2012), edited Martha Diaz and Felicia Pride.
Included in Essence Magazine's 2019 Woke 100 List, Holmes is a 2019 Soros Equality Fellow and has received awards from the John S. and James L. Knight Foundation, Pennsylvania Council on the Arts, Leeway Foundation, Independence Media, Women's Way, and Philadelphia Commission on Human Rights. She was named a Creative Ambassador by Visit Philadelphia in 2009 and was a fellow at the 2014 Flaherty Film Seminar and a 2016 Ford Foundation Rockwood JustFilms Fellow. In 2020, she was recognized as one of Black Public Media's 40 Game Changers of the past 40 Years.
Holmes received her M.F.A. in Film & Media Arts from Temple University, her B.A. in History from American University, and studied Design & Production at the graduate level at California Institute of the Arts. She currently serves on the board of American Documentary; the advisory boards of Vidiots, Ulises and Lightbox Film Center; and was a juror for the 2019 Full Frame Film Festival and the Philadelphia Asian American Film Festival. She began her career with internships at the National Museum of American History and Dallas Austin's Rowdy Records.
Education
B.A., American University, 1999
M.F.A., Temple University, 2005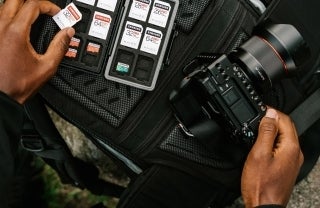 News
Professor Sarah J. Jackson organized a day-long symposium focused on the unique challenges experienced by Black storytellers.