Samantha Moore-Berg investigates the antecedents and consequences of intergroup conflict around the globe. She then uses these findings about the drivers of conflict to develop theory-driven interventions to promote peace and reconciliation.
Samantha Moore-Berg is a Postdoctoral Researcher in the Peace and Conflict Neuroscience Lab at the University of Pennsylvania. Her research bridges the areas of social & cognitive psychology, communications, and political science to study links between behavior and social-cognitive processes that evolve in intergroup contexts. Her main research interests include 1) isolating socio-cognitive functions that contribute to or predict intergroup conflict and 2) designing and implementing interventions that directly combat intergroup conflict. She conducts her research in many contexts around the globe, and she often works with outreach organizations in order to tailor her research to the needs of communities that can most benefit from it. Her work has been published in top journals including Proceedings of the National Academy of Science, Personality and Social Psychology Bulletin, and Current Opinion in Behavioral Sciences. Moore-Berg received her Ph.D. in Social Psychology at Temple University in 2018 and her B.A. in Psychology and Sociology at Florida State University in 2013.
Education
B.A., Florida State University, 2013
Ph.D., Temple University, 2018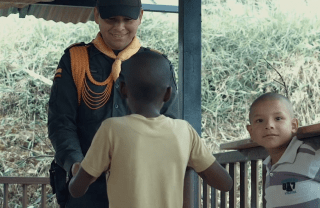 News
Five-minute videos showing ex-guerilla fighters co-existing with their new neighbors promoted peaceful reintegration.