Woori Han's research examines cultural activism by the marginalized, with a focus on the roles of affect and digital media in reconfiguring citizenship in the context of globalized identity politics and (post)developmental nationalism.
Han holds a Ph.D. in Media and Cultural Studies from the Department of Communication at the University of Massachusetts Amherst. Her research centers on media and cultural activism in the late capitalist, patriarchal, heteronormative, and transnational Korean context. In particular, she examines how digital media and cultural production has become a critical site where contested global and local sexual politics and networked affect can construct social movement, backlash, and new subjectivities.
During her postdoctoral fellowship, she is working on a book manuscript on how LGBTQ Koreans organize activism and claim citizenship in a process of media and cultural production that engenders tension with right-wing anti-LGBTQ movements, Korean developmental nationalism, and global liberal identity politics. She will also look at the relationship between queer politics and feminist politics in Korea, which are being reconstructed by digital media practices and geopolitical contexts.
Han's research on feminist cultural movements, feminist media critiques, and queer cultural activism has been published in Communication, Culture & Critique, Media, Culture & Society, and Korea Journal. She is also a recipient of top student paper awards from ICA and NCA. 
Education
B.A., Korea University, 2007
M.A., Korea University, 2012
Ph.D., University of Massachusetts Amherst, 2021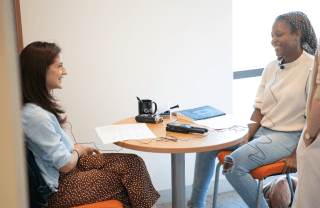 News
The Global Media & Communication podcast furthers CARGC's goal to explore multimodal scholarship during the 2022-2023 academic year