Alvin Zhou, with his educational background in both engineering and social science, applies network and computational methods to research on strategic and political communication. He also studies how new technologies are transforming these fields.
Alvin Zhou is a doctoral candidate at the Annenberg School for Communication at the University of Pennsylvania. Zhou is broadly interested in social networks, strategic communication, digital media, and computational social science.
Zhou received his B.E. in Mechanical Engineering and B.A. in Journalism from Tsinghua University, his M.A. in Strategic Public Relations from the USC Annenberg School, and his M.A. in Statistics from the Wharton School. He worked for Vista Story, a Beijing-based news magazine, before coming to the US.
Education
B.E., Tsinghua University, 2015
B.A., Tsinghua University, 2015
M.A., University of Southern California, 2017
M.A., University of Pennsylvania, 2019
M.A., University of Pennsylvania, 2020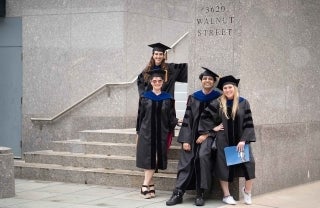 News
Eleven students earned their doctoral degrees, and 12 students received M.A. degrees.