Ava Kikut is interested in the effects of the media environment on youth health and implementing community-based participation research approaches to address health inequalities in Philadelphia.
Ava Kikut is a doctoral candidate at the Annenberg School for Communication at the University of Pennsylvania. Kikut studied English at Penn and was marketing director for the Penn Ophthalmology Department. Through her role in Ophthalmology, Kikut became involved with an NIH-funded initiative to reduce racial inequalities in glaucoma research and care. Kikut helped grow partnerships between glaucoma physicians, patients, WURD Radio, churches, and senior centers to implement a multi-media study recruitment campaign and free glaucoma screening program in Philadelphia.
Most recently, Kikut's work focuses on the effects of the media environment on youth health outcomes and the potential for community-based campaigns to help address health inequalities. Kikut was one of three Penn graduate students selected for the 2020 Provost Graduate Academic Engagement Fellowship at the Netter Center for Community Partnerships. Through this fellowship, Kikut is partnering with high school and middle school health programs in Philadelphia to support youth-driven health advocacy campaigns.
Education
B.A., University of Pennsylvania, 2017
M.A., University of Pennsylvania, 2020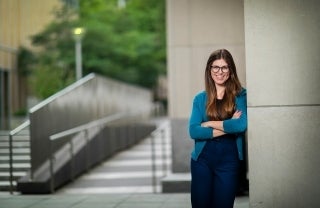 News
Kikut worked with high school students and Penn undergrads to develop media messages that speak to the health needs and inequalities pertinent to adolescent Philadelphians.