Ava Kikut is interested in the effects of media on health and developing community-based communication campaigns to promote health equity.
Ava Kikut is a doctoral candidate at the Annenberg School for Communication at the University of Pennsylvania. Kikut's research in health communication focuses on the effects of media on health and developing community-based interventions to promote health equity. Kikut applies quantitative research and mixed-methods community-based participatory action research. Her work has informed communication approaches across a range of topics, including youth mental health, COVID-19 prevention, tobacco use prevention, glaucoma screening, and genetic study recruitment.
Kikut's dissertation research focuses on the role of trust and evidence-based messages in communicating COVID-19 prevention guidelines. As the Provost's Graduate Academic Engagement Fellow at Penn's Netter Center for Community Partnerships, Kikut has partnered with teams of high school and undergraduate students to support youth-driven mental health advocacy campaigns. Kikut has led several studies published in top communication and public health journals, including Health Communication, Journal of Health Communication, Vaccine, Tobacco Control, and Preventive Medicine Reports.
Education
B.A., University of Pennsylvania, 2017
M.A., University of Pennsylvania, 2020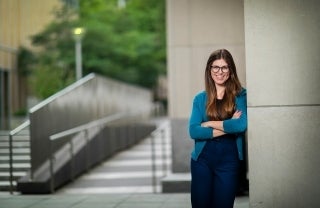 News
Kikut worked with high school students and Penn undergrads to develop media messages that speak to the health needs and inequalities pertinent to adolescent Philadelphians.