Chloé Nurik conducts research on social media regulation and communications law. She also analyzes and critiques how corporate governance impacts historically marginalized groups and communities.
Chloé Nurik is a dual degree (Ph.D./J.D.) candidate at Annenberg and Penn Law. She researches freedom of expression protections and limitations, self-regulation of media industries, media advocacy, and the intersection of law, public policy, and gender. She is writing her dissertation on the self-regulation of social media sites and how this system of governance impacts the expressive potentiality of marginalized groups and communities. Additionally, she is interested in using her research for social, legal, and political advocacy. Her internships during graduate school include the Federal Communications Commission (FCC) and AT&T Global Public Policy.
Nurik graduated Summa cum Laude and Phi Beta Kappa from the University of Pennsylvania in 2017. At Penn, she majored in History and minored in English, Classical Studies, and Gender, Sexuality, and Women's Studies. As an undergraduate, Nurik was involved in communication research through her fellowship at FactCheck.org (part of the Annenberg Public Policy Center) and her position as a research assistant in the Center for Health Behavior and Communication Research (where she co-wrote a paper about how young adults in China use the Internet for sexual health education). Her honors thesis, entitled "Collegiate Masculinity and the Rise of American Youth Culture During the Roaring Twenties," examined the tension between mediated representations of collegiates at this time (that stressed modern values) and the way elite institutions positioned young men to embody traditional standards of behavior. Using this topic, she participated in two funded research collectives on campus: University Scholars and Penn Humanities Forum.
Education
B.A., University of Pennsylvania, 2017
M.A., University of Pennsylvania, 2019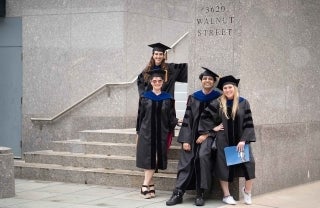 News
Eleven students earned their doctoral degrees, and 12 students received M.A. degrees.