Diami Virgilio studies group identification and Black politics online. His work focuses on critical and qualitative approaches to understanding how people use and are used by digital media.
Diami Virgilio's research interests include digital culture and politics, processes of identification online, data and credibility, and race and nationalism. He uses methods and frameworks derived from critical theory, ethnography, world history, and political economy. Prior to his arrival at Annenberg, he spent 16 years in the New York City non-profit social service sector in management, development, communications, and direct social services.
Education
B.A., City University of New York, 2015
M.A., University of Pennsylvania, 2019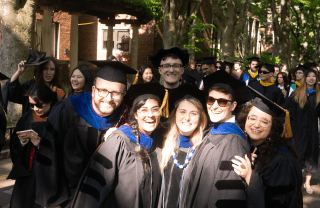 News
Earlier today, the Annenberg School for Communication held its annual graduation ceremony for doctoral students. The in-person celebration honored 12 graduate students who have earned their doctoral...