Emma Jesch studies health communication — ranging from mass media campaigns, media exposure, message effects, and persuasion — and explores how routine media coverage and targeted interventions impact health beliefs and behaviors.
Emma Jesch is a doctoral candidate at the Annenberg School for Communication. At Annenberg, she works with the Penn Tobacco Center of Regulatory Science (TCORS), focusing on tobacco and e-cigarette-related media coverage and beliefs and behavior among young adults. Her research interests primarily center on affective reactions to health interventions and (mis)information and effects of exposure to contradictory health information.
Prior to joining Annenberg, Jesch was a research associate at the health communication lab at Cornell University, where she studied health issues portrayed in political advertising and the effects of graphic warning labels on cigarette packaging. She also received her B.S. in communication from Cornell in 2016.
Education
B.S., Cornell University, 2016
M.A., University of Pennsylvania, 2020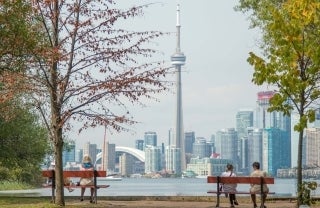 News
The International Communication Association will hold its 73rd annual conference in Toronto, Ontario, Canada.