Heather Jaber is a researcher from Beirut and Boston. She holds an M.A. in media studies from the American University of Beirut (AUB). As a doctoral candidate, she analyzes digital practices of exposure in the Arab world, focusing on the role of emotions and affects in the study of geopolitics and popular culture. She is interested in the way that spectators are pulled into transnational spectacles which channel, amplify, and transform public feeling. She has published work in Critical Studies in Media Communication, The International Journal of Communication (IJoC), and Kohl: A Journal for Body and Gender Research.
Before joining Annenberg, Jaber worked as the communications coordinator for the KIP Project, which sought to push for the production and dissemination of knowledge around gender and sexuality in Lebanon. She has also worked in the journalism and editorial fields in Lebanon, the US, and Austria, writing for newspapers and seminar programs.
Education
M.A., American University of Beirut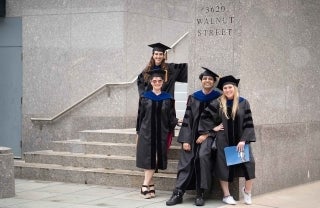 News
Eleven students earned their doctoral degrees, and 12 students received M.A. degrees.