Kelly Diaz researches social justice storytelling and the intersection of entertainment and activism. She is particularly interested in media dealing with topics of sexuality, gender, and racial justice.
Kelly Diaz is a doctoral candidate at the Annenberg School for Communication. Diaz is interested in studying the intersections of entertainment, advocacy, and education. In particular, she wants to explore both the ethics and effectiveness of using humor to discuss human rights issues. Her research projects revolve around social justice storytelling, cultural memory, and affect theory. She is also passionate about accessibility to information and making sure that academic writing is not inherently exclusionary to those with language and educational barriers.  
Before joining Annenberg, she completed an AmeriCorps VISTA year serving the public housing community in Hoboken, New Jersey. In 2017, Diaz earned her Master's of International Affairs from Penn State with a concentration in Human Rights and Humanitarian Response. Diaz graduated from the Schreyer Honors College at Penn State in 2015 with degrees in Comparative Literature and Global/International Studies and minors in English, Spanish, Political Science, and Sexuality/Gender Studies. She wrote her honors thesis on human rights literature regarding the "Dirty War" in Argentina.
Diaz is the President of the Graduate and Professional Student Assembly (GAPSA) and an active member of Lambda Grads, the LGBTQ group at Penn. She is a middle child, a dog mom, and an avid football fan. In her free time, she enjoys creative writing and baking.
Education
B.A., Pennsylvania State University, 2015
M.I.A., Pennsylvania State University, 2017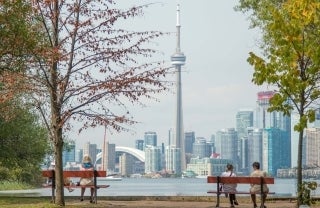 News
The International Communication Association will hold its 73rd annual conference in Toronto, Ontario, Canada.