Lauren Bridges is a critical data studies researcher investigating the political, social, economic, and environmental implications of the so-called "cloud."
Lauren Bridges is a Ph.D. candidate at the Annenberg School for Communication at the University of Pennsylvania. She researches the material and discursive entanglements of digital infrastructures in the (re)production of state and corporate power and pays particular attention to the stories we tell about technology and its imagined futures. Bridges has published in New Media & Society, Big Data & Society, Information, Communication & Society, and received awards and honorary mentions from International Communication Association, National Communication Association, and the Association for Internet Researchers. She holds an M.A. in creative writing, publishing, and editing from the University of Melbourne and a B.A. in business from Queensland University of Technology. Prior to Annenberg, she worked in academic publishing and the nonprofit sector with a focus on social policy.
Education
B.A., Queensland University of Technology, 2004
M.A., University of Melbourne, 2015
M.A., University of Pennsylvania, 2019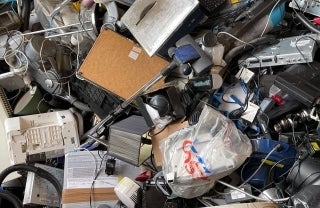 News
The research team will develop policy recommendations to combat climate injustices caused by e-waste throughout the entire tech supply chain.