María Celeste Wagner studies media reception and influence around political and social issues, particularly those related to intersecting gender inequalities, through the use of qualitative, quantitative, and comparative methods, and with a focus on Latinx and Latin America. 
From a mixed-methods approach and a global communication perspective, María Celeste Wagner studies how the media influences opinions around social issues, particularly those related to gender, with a focus in Latinx and Latin America. She also studies media practices and interpretations in the contemporary media environment. Fieldwork for her research has been conducted in Argentina and the United States. Some of her recent projects have explored the emotional experiences, interpretations, and practices of consuming news and perceived misinformation during times of political polarization in the U.S., the role of the perceived gender of journalists on the promotion of ideas around the severity of sexual harassment, attitudinal effects of consuming "fake news" in Argentina during the 2019 presidential elections, and the experiences and interpretations of watching television entertainment in Argentina and the U.S., with a transnational and transcultural focus on issues of identity.
Wagner's dissertation analyzes social and individual-level consequences of the way contemporary media talks about different forms of sexual and gender-based violence in Argentina and the United States. Through online survey experiments, it analyzes how diverse audiences in both countries respond to news about workplace harassment when harm is done to women from different ethnic and class backgrounds. Second, it draws from qualitative interviews with survey respondents to explore possible causal mechanisms. Third,  and to understand expert views on contemporary issues of communication and social change, it draws from more than fifty interviews with leaders in gender equality organizations in both countries.
Her work has been published in Journalism, Digital Journalism, Latin American Perspectives, Media, Culture & Society, and in Latin American peer-reviewed journals, such as Cuadernos.info and Palabra Clave.
Wagner received her Licenciatura (4.5-year undergraduate degree) in Communication from Universidad de San Andrés in Argentina, her home country. Prior to attending Annenberg, she was Research Coordinator at MESO Argentina, the Center for the Study of Media and Society in Argentina, where she is now a Research Affiliate.
Wagner is also very passionate about teaching. In 2015, she received a Teaching Award at Universidad de San Andrés, given to the best Teaching Assistant at the university.
She is a member of the organizing committee of the "Digital Media in Latinx and Latin America" Pre-Conference at ICA; an external graduate student affiliate at the Center for Latinx Digital Media at Northwestern University; a Working Group coordinator at the Latin American Interdisciplinary Gender Network, a joint initiative of Yale and UNAM; and a member of the Graduate Advisory Board at the Latin American and Latino Studies Program at Penn. 
Education
Licenciatura, Universidad de San Andrés, 2013
M.A., University of Pennsylvania, 2018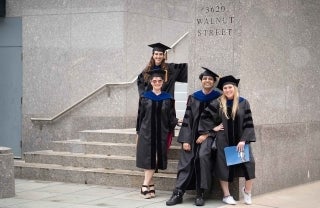 News
Eleven students earned their doctoral degrees, and 12 students received M.A. degrees.
María Celeste Wagner on Video