Megan Genovese studies the structures, content, and reception of entertainment media and the politics of fan communities and praxis. Her dissertation examines fandom rhetorical frameworks in political talk as an expression of left-wing moral engagement.
Megan Genovese is an upcoming graduate studying the intersection of politics and popular culture. Her dissertation "Frameworks for Morality in Left-Wing Political Talk" uses interview and focus group data to examine how transformative media fans talk about politics, specifically whether left-wing fans express moral engagement with politics. This project draws on political science, sociology, moral philosophy, and fan studies to argue that American political discourse has a narrow definition of morality that provides a discursive advantage to the right and a deficit to the left. Whereas political pundits and scholars have criticized this lack of moral engagement, Genovese argues that moral engagement on the left is only invisible in the narrow confines of political discourse and is clearly visible in other discursive spheres. Popular culture, transformative media fandom in particular, is one such site from which the left can appropriate rhetorical frameworks to express their moral motives and engagement with politics. This work has implications for further study of political projects in fan works, organizing in fan spaces, and left-wing political and moral rhetoric in contemporary America.
Previous projects have investigated topics across the production, content, reception, and transformation of entertainment media texts in commercial and fan spaces. Genovese has presented at the conferences of the Northeast Popular Culture Association, Popular Culture Association of Australia and New Zealand, and Fan Studies Network. She has been published in the Proceedings of the 39th Conference of the Northeast Popular Culture Association and in the inaugural issue of Panic at the Discourse.
While at Annenberg, Genovese has served on the Annenberg Graduate Student Council, the Professional Development Committee, and the Graduate Student Symposium Committee. She also helped establish the Center for Media at Risk as a member of the Student Organizing Committee and continues to sit on its Steering Committee.
Genovese graduated summa cum laude from Baylor University in 2015. Her scholarly background is in linguistics, rhetoric, culture studies, and media studies. Her undergraduate thesis, "Boys, Girls, and Monsters: Regulation of Normative Gender in Supernatural," was a close reading of ideologies of gender, sexuality, and heroic identity in the first nine seasons of Supernatural (2005-2020). Her forthcoming chapter in Lisa Macklem and Dominick Grace's Breaking out of the Box: Critical Essays on the Cult TV Show Supernatural (2021), "Monsters Make Gender Trouble," developed from this project.
Education
B.A., Baylor University, 2015
M.A., University of Pennsylvania, 2017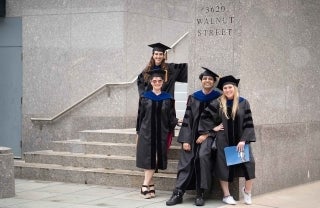 News
Eleven students earned their doctoral degrees, and 12 students received M.A. degrees.