Mia Jovanova studies what digital technologies, like smartphones, can reveal about people's health behaviors.
Mia Jovanova is a doctoral candidate at the Communication Neuroscience Lab. Her dissertation aims to develop personalized models from intensive smartphone sampling, with the goal to improve health behavior prediction. Her other work draws on experimental, neuroimaging, and social network methods to develop digital behavior change interventions. More recently, she is also excited about understanding legitimacy in health contexts, and metascience questions of how to improve scientific credibility.
Prior to joining the lab, Mia worked at the health communication lab at Cornell University, where she graduated in 2017. Prior to her scientific pursuits, Mia played competitive tennis, representing North Macedonia, and competed in more than 30 countries around the world.
Following graduation, Mia will be a Scientific Director leading the CSS Health Lab at the University of St. Gallen and ETH Zurich in Switzerland. The CSS Health Lab will focus on developing new digital biomarkers to improve the prevention and management of non-communicable diseases, at the intersection of medicine and artificial intelligence
Education
B.S., Cornell University, 2017
M.A., University of Pennsylvania, 2020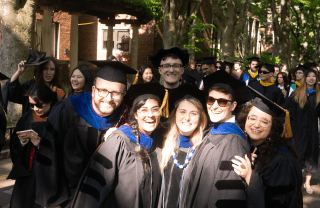 News
Earlier today, the Annenberg School for Communication held its annual graduation ceremony for doctoral students. The in-person celebration honored 12 graduate students who have earned their doctoral...