Mohammed A. Salih's research broadly focuses on critical studies of media, culture, and their intersection with (geo)politics. He also studies ideological discourses of identity and community, particularly Islamism and nationalism, relying on the Middle East for empirical evidence.
Mohammed A. Salih is a doctoral candidate at the Annenberg School for Communication. For his dissertation, he is conducting a critical examination of the discourses of identity, community, and polity in the Islamic State's media products.
Prior to joining Annenberg, Salih worked as a, mostly freelance, journalist for around a decade covering the Islamic State conflict, the aftermath of the Iraq War, and Kurdish affairs. His bylines have appeared in the New York Times, Washington Post, The Guardian, Inter Press Service (IPS), Al Jazeera English, Al-Monitor, Foreign Policy, The Independent, Newsweek Middle East, Christian Science Monitor, France 24, The Daily Beast, The Nation, Middle East Eye, World Politics Review, Rudaw, The Kurdish Globe, The Cairo Review of Global Affairs, as well as Kurdish news publications Awene and Xebat. His video stories have aired on Deutsche Welle (DW), FRANCE 24, Channel News Asia, and Rudaw. He has been interviewed extensively on international news outlets such as CNN, Fox News, Sky News, DW TV, France 24, i24 News, BBC Radio, and NPR commenting on Kurdish and Iraqi affairs.
He has also published analytical pieces with Washington-based think tanks Middle East Institute and the Washington Institute for Near East Policy on local politics of Kurdistan.
Education
B.A., Salahaddin University, Kurdistan (Iraq), 2004
M.A., University of Missouri, 2010
M.A., University of Pennsylvania, 2018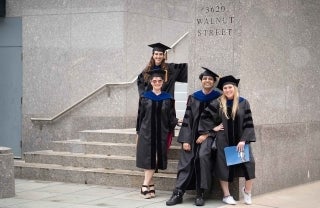 News
Eleven students earned their doctoral degrees, and 12 students received M.A. degrees.