Pris Nasrat is a Ph.D. student at the Annenberg School for Communication. She is also working towards graduate certificates in Gender, Sexuality, and Women's Studies, and Experimental Ethnography. Her research interests sit at the intersections of performance studies and transnational queer and trans studies, with a focus on the SWANA region and diasporas. Prior to attending the University of Pennsylvania, she worked for many years as a systems and software engineer across a range of media and internet companies before returning to school to complete her B.A. As a non-traditional aged student, Nasrat received her B.A. majoring in Anthropology from Wellesley College.
As a multimodal performance artist, Nasrat blurs the lines between scholarship and performance who embraces using drag and burlesque as interventionist art forms.
Photo Credit: Z Walsh
Education
B.A., Wellesley College, 2019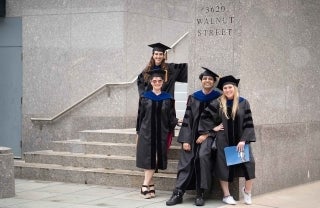 News
Eleven students earned their doctoral degrees, and 12 students received M.A. degrees.