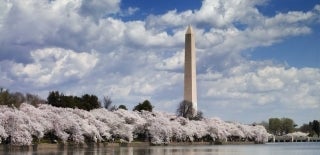 Annenberg In Washington
Annenberg In Washington
Providing financial support to Communication majors as they pursue internships in our nation's capital
Please note that the Annenberg in Washington program is currently suspended due to the COVID-19 pandemic. As an alternative, please see the page for Annenberg in Public Service.
Annenberg in Public Service Page
Annenberg in Washington (AIW) is administered through the Annenberg School's Institute for Public Service (IPS) and runs from late May/early June through mid-August.
At least ten Communication majors are awarded funds each year. Read about the experiences of our student fellows who participated in 2017, 2018, and 2019.
Current Communication majors and students who will declare the major prior to participating in the program are eligible to begin the application process.
Students are encouraged to begin their internship search as soon as possible this Fall and over Winter Break, and to apply for AIW funding while in the process of securing an internship.
Preference is given to majors who have declared the Communication and Public Service (ComPS) concentration, but fellowship cohorts include majors with a mix of declared concentrations and minors.
Students who accept offers of unpaid or underpaid internships are eligible for a stipend of up to $6,000 for internships lasting a minimum of nine weeks. Students will receive one payment of up to $6,000 at the end of May. Although the full fellowship amount is disbursed, these funds are taxable according to U.S. law, and students must declare fellowship income on their tax returns. Students should budget so that funds are available for any taxes due. 
Students may opt to receive course credit for their internships by enrolling in COMM 491 in either the Summer or Fall semester of 2020 (tuition required).
Students should apply for AIW funding once they have begun to apply for Summer internships in Washington, D.C. Applications may be made before any internship offers are in hand. Initial review of applications and interviews will begin early in Spring semester, and will continue on a rolling basis. Selected students will be officially eligible for funding awards only when their formal internship offers are received and accepted. Stipends will be dispersed only when a formal contract with the internship organization is finalized.
For assistance in identifying an internship, the Penn in Washington program maintains a database of internships in Washington D.C. Dr. Dierdre Martinez, Director of Penn in Washington, can also advise students one-on-one about finding an internship. Students are also encouraged to join the Penn in Washington academic year listserv to be notified of campus events related to Washington, D.C. internships.
Students who need assistance or have questions about AIW should contact Alison Feather, Director of Student Services and Registrar.