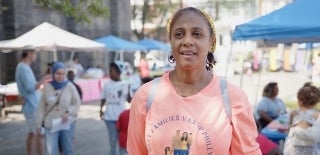 How Can the Media Lab Help?
How Can the Media Lab Help?
Whether it's supporting multimedia class assignments, aiding with research projects, recording podcasts, or bringing another idea to life, the Paul Messaris Media Laboratory serves the Annenberg community. 
Above: As part of a Philly CEAL project, a parent ambassador encourages people to get their booster shots at Unity Day in Cobbs Creek. (Photo Credit: Waldo Aguirre)
Multimodal Research
Vaccine Testimonials
To support Professor Andy Tan's research work with the Philadelphia Community Engagement Alliance (Philly CEAL), Medialab Manager Anna Gamarnik and Director of Multimedia Services Waldo Aguirre attended a West Philadelphia community event, where they recorded videos of parents encouraging others to get their COVID booster shots.
Parents read off a teleprompter from a list of reasons, which had been rated by community members as being most effective. Snippets of these videos were posted to Philly CEAL's social media. 
Virtual Reality Health Messaging
In collaboration with the Annenberg Virtual Reality ColLABorative, the Media Lab supported Research Associate Katerina Girginova's research into augmented reality as a means of community messaging. Media Lab Manager Anna Gamarnik filmed short narrative videos that were featured on interactive AR posters.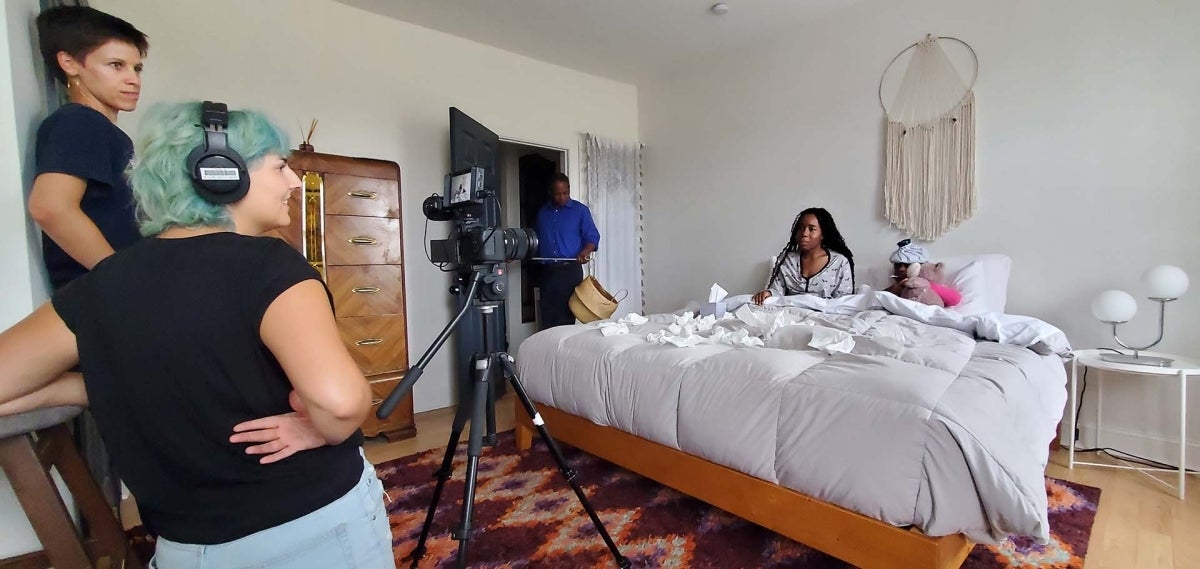 Supporting Classroom Assignments
Qualitative Research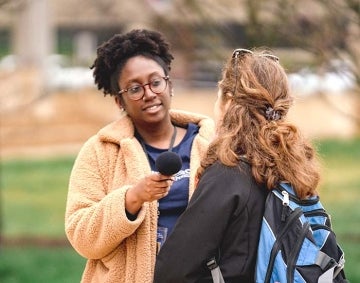 In Spring 2022, Professor Kathleen Hall Jamieson taught COMM 5230: Qualitative Ways of Knowing, and brought her class to Washington, D.C. to photograph different memorial sites and conduct interviews with tourists. Their ethnographic research will serve as ideas and inspiration in the design and construction of the Fallen Journalists Memorial in D.C. The Paul Messaris Media Lab provided students with Zoom H1n recorders and Audio-Technica ATH-M20X headphones, which they checked out through the Connect2 online booking.
Recording Podcasts
Global Voices
Centers such as the Center for Advanced Research in Global Communication (CARGC) have reserved the lab's soundproof recording booth to record the Global Media & Communication Podcast, which is part of the New Books Network. The booth can comfortably seat four with microphones, headphones, and a mixing board.