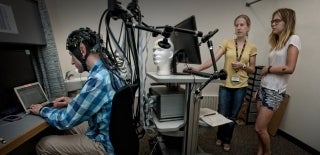 Research Areas
Research Areas
The field of Communication is a dynamic and interdisciplinary one, continually evolving at the pace of our world.
At the Annenberg School for Communication, we embrace the diversity of Communication by encouraging students to shape their own academic path within the generosity of a broad field, working alongside faculty who themselves hail from a variety of different disciplines. 
Broadly speaking, our faculty and students do work in the areas of culture and media, global communication, health communication, media institutions, political communication, and technology & society. In many cases, more than one of these areas would apply to their work. Click through each research area below to read more about the people and research in each.