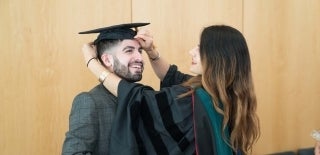 Careers and Outcomes
Careers and Outcomes
Communication is a flexible major, giving our students great flexibility in their career choices. 
Communication is a major that helps students understand the world they live in, taking a critical eye to the constant flow of messages that surround us — messages from the news media, social media, advertising and marketing, governments and non-profits, and more.
While building students' analytic and writing skills, Communication asks them to examine how ideas flow from media to audiences, from corporations to consumers, from governments to citizens and vice-versa. These critical thinking skills can be applied to a wide variety of careers, and indeed our students find success in many different arenas.
The most popular areas for employment immediately following graduation include media/journalism/entertainment, marketing/advertising/public relations, consulting, retail/wholesale, consumer products, education, and nonprofit work. Many of our graduates also continue on to graduate school in law, business, the social sciences, and the humanities.
The following table contains a sampling of the kinds of opportunities recent Comm majors have gone on to pursue post-graduation:
Careers
Graduate Schools

ABC News, Senior Research Analyst Broadcast Media
Arden Theatre, Apprentice
Barclays, Brand & Marketing
Bloomingdale's, Assistant Buyer
CBS News, Digital Associate / Senior Social Media Producer
Center for American Progress, Research Assistant
Center for High Impact Philanthropy, Communications and Marketing Associate
CNBC, Reporter
DreamWorks TV, Production Coordinator
Edelman, Associate Analyst
Environmental Protection Agency, Special Assistant
Empire State Realty Trust, Public Relations Assistant
ESPN, Digital Sales Planner
Facebook, Client Solutions Manager; Management Consulting
Full Frontal with Samantha Bee, General Production and Post-Production
Glaxo Smith Kline, Global Communications Manager
Google/YouTube, Associate Product Marketing Manager
IBM, Consultant
Lenfest Institute for Journalism, Research Analyst
Lionsgate, Junior Research Analyst
Lippincott, Brand Strategy Consultant
Maison MKRT, Digital Strategy Analyst
McKinsey & Co., Business Analyst
MSNBC, Production Assistant
NBC News, Associate White House Producer
NBC Sports Groups, Olympics Researcher
Nielsen, Associate, Emerging Leaders Program
NYC Mayor's Office for International Affairs, Digital Director & Assistant Press Secretary
Partners in Health, Communications Coordinator
PBS, Production and Operations Assistant
Pepsi, Senior Marketing Analyst
Republican National Committee, State Data Coordinator for New Hampshire
Smerconish.com, Managing Editor
Tennessee State Government, Governor's Office Management Fellow
Tom Wolf for Governor, Press Assistant
Unilever, Marketing Specialist
Urban Justice Center, Housing Advocate
USA Today, Reporting Fellow
U.S. Department of Justice, Paralegal
U.S. Department of Energy, Special Advisor to the Chief of Staff for Public Policy
Viacom, Analyst, Digital Revenue Broadcast Media 
Warren for President, Field Organizer
Washington Post, Multiplatform Editor

Adelphi University, Ph.D., Clinical Psychology
ArtistYear Fellowship
Columbia Journalism School, M.A., Documentary Specialization
Emory University, M.A., Marketing
Harvard University, M.A., Technology Innovation and Education
New York University, J.D.
New York University, M.A., Producing
New York University, M.P.A., Public & Nonprofit Management & Policy
Stanford Center on Poverty & Inequality, Research Fellowship
Stanford University, M.A., Management Science and Engineering
Teach for America
Thouron Fellowships (Various Universities, UK)
University of Amsterdam, M.A., Media and Digital Culture
University of Chicago, Ph.D. Political Science
University of Edinburgh, M.A., Policy Studies
University of Exeter/London Film School, M.A., International Film Business
University of Pennsylvania, M.A., Nonprofit Leadership
University of Pennsylvania, J.D.
University of Pennsylvania, M.A., Social Policy
University of Pennsylvania, M.D., Perelman School of Medicine
University of Pennsylvania, M.S., Education
University of Pennsylvania, Presidential Engagement Prize, Project HOPE
Washington University St. Louis, M.A., Film & Media Studies
Alumni Graduation Speakers
Each year, we bring back to campus a distinguished Comm major alumnus to speak at our graduation ceremony. Hear them reflect on their Comm majors and their advice to new graduates.
In Their Own Words
In a series of Q&As, we spoke with some of our alumni, who represent a broad array of careers and class years.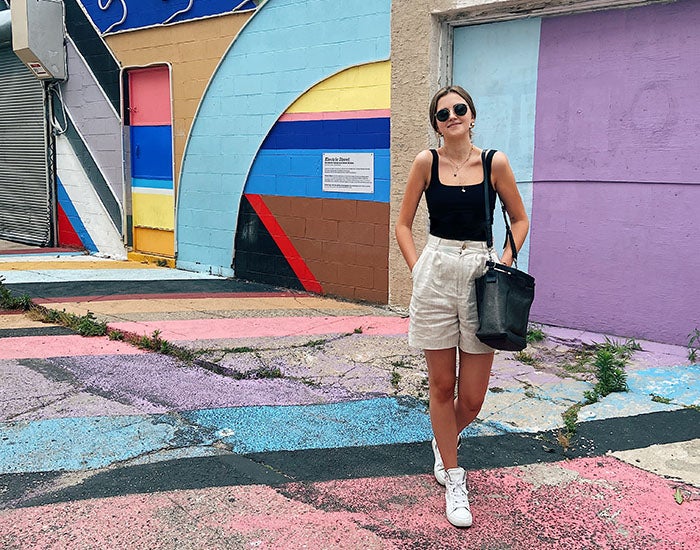 Free Rein to Explore
"Studying Communications at Penn is an incredible path for students whose interdisciplinary interests don't necessarily fit within the confines of other fields. This major allows students to study human interaction through a myriad of perspectives, ranging from constitutional law to computational text analysis and more. Majoring in Communications gave me free rein to explore, without which I never would have discovered my interests in data visualization and tech policy." —Anna Callahan C'21, Brunswick, ME