Communication Major Alumna Q&A: Adriana Massara (C'10), Training and Outreach Manager, How I Decide
Massara discusses her experience working in public schools and for education nonprofits.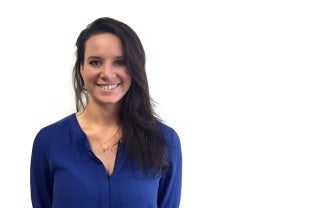 In celebration of the 40th anniversary of the Communication major at Penn, each Monday this semester we're running a series of Q&As with notable alumni, which continues today with Adriana Massara (C'10). 
Directly after graduating from Penn in 2010, Adriana Massara joined Teach For America (TFA) and taught third grade in Hawaii while earning her Master's in Education. After TFA, Massara continued teaching at a Title I school in Brooklyn, NY. Today she is still focused on education as the Training and Outreach Manager for How I Decide, a non-profit that helps young people build "fundamental thinking skills and strategies to manage everyday habits, in-the-moment choices, and deliberate decisions throughout their lives."
How did your time at Penn shape your career interests?
Penn's dedication to working with the community in West Philadelphia opened the door to a vast number of volunteer opportunities for me. I was a member of a dance mentoring program (CityStep), I was involved in service projects through my sorority, and I took ABCS courses through the Netter Center. These experiences opened my eyes me to the myriad of challenges our schools and our students face everyday. Consequently, I became passionate about working towards solving the issues and I knew I wanted a career that would afford me that opportunity. 
What drew you to Teach for America? How did that experience influence your future professional choices?
A campus recruiter for Teach for America actually reached out to me. I wasn't aware of the organization before that, which is crazy to think about. I quickly realized that TFA was a perfect fit for me. Teach for America's mission is to close the achievement gap which is exactly what I wanted to do. I continued teaching for another three years after TFA because it was so evident that the work was important. I ultimately chose to leave the classroom because I wanted to scale the impact of my efforts. 
Can you share some of the greatest joys and toughest challenges you've faced as an elementary school teacher?
There are so many it is hard to narrow it down! My lack of teaching experience was the toughest. I was placed as a 3rd grade general education teacher. I couldn't even remember 3rd grade. I had 30+ eight-year-olds who were suddenly all my responsibility. I had no real training aside from the five weeks at institute. I was learning on the spot all of the time, and I had an audience of very honest third graders keeping me in check. Every moment felt like 100 tennis balls were being thrown at me and someone was yelling, "catch!" (To be fair, this is how almost every new teacher feels, not only someone in Teach for America.)
I have two things I'm proud of. The first is obviously my students. Every year my students outperformed the state and district by over 30 percentage points on the state tests. My students were disadvantaged and had a lot working against them. Their starting line was far behind their peers in wealthier districts. I am so incredibly proud of them for overcoming their many obstacles and achieving what they did.
I remember I had one student who struggled a lot with reading. I tutored him every day. On the day my class took the reading state test, he was the last person to submit his test online. The score came back immediately; he passed! We both started crying and laughing so the entire class figured out he passed and tackled him to the ground with hugs. It was awesome.
This leads me to the second thing I'm proud of — the love and compassion that existed in my classes. It sounds cheesy, but we all truly cared for each other. It felt like we were a family. I have my parents and brother to thank for that. They taught me how to love and care for others. 
After five years of teaching in public and charter schools, you transitioned into the nonprofit sector. What is your role at How I Decide?
I am the Training and Outreach Manager for How I Decide. We are an educational nonprofit dedicated to helping students make better decisions. We create innovative, instructional content for teachers to use in the classroom that focuses on helping students understand the psychological behind decision-making. My job involves a lot things: I train and coach teachers who use our programs. I connect with principals and administrators who may be interested in our content. I also do the digital marketing.
How has majoring in Communication been helpful to you professionally?
When I was studying Communication at Penn, I took a few courses that focused on how media/politicians can control the message. We learned about the cognitive biases that played a role in people's perceptions of their world. Those theories have helped work with and understand my colleagues and supervisors. 
What advice would you give to current Communication majors who may be interested in the education sector?
Volunteer and get as involved in the community as possible. Find Penn alumni who work in education and connect with them. Get experience in as many things as you possibly can now so you have a clearer vision of what you do and do not like by the time you graduate.
Don't miss our interviews with the Washington Post's Ashley Parker (C'05), Teach for America's Mika Rao (C'96), Northwestern University's Jabari Evans (C'04), Baked By Yael's Yael Krigman (C'02), life coach Caren Osten Gerszberg (C'86), and CHOP's Lisa Serad (C'07).