Communication Major Alumna Q&A: Caren Osten Gerszberg (C'86), Life Coach and Writer
Gerszberg discusses what a life coach is and how she became one.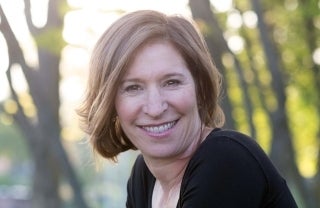 In celebration of the 40th anniversary of the Communication major at Penn, each Monday this semester we're running a series of Q&As with notable alumni. Don't miss our interviews with the Washington Post's Ashley Parker (C'05), Teach for America's Mika Rao (C'96), Northwestern University's Jabari Evans (C'04), and Baked By Yael's Yael Krigman (C'02). The series continues today with Caren Osten Gerszberg (C'86).
Caren Osten Gerszberg, who graduated from Penn in 1986, has worked as a journalist for over 20 years, writing for publications like Psychology Today, the New York Times, and Rolling Stone. She is currently a freelance journalist, covering health and wellbeing, mindfulness, education, and travel, and a certified positive psychology life coach, working with both individuals and groups.
What drew you to the Communication major at Penn? Reflecting back, what do you think you got out of it that influenced your career and life trajectory?
From the time I was young, I knew I wanted to work in the media — I just didn't know in what area. So a Communication major seemed the most natural fit with my interests. When I got to Penn, I learned quickly that my education would be more theoretical than pragmatic, which ultimately forced me to think differently about the field and exposed me to influences in the media that I may not have studied elsewhere. Outside of the classroom, I spent time on campus, during summers and at part-time jobs working in radio, TV, and advertising. When I landed at a magazine for a summer internship after my junior year, that sealed the deal for me.
You spent 20 years as a journalist and continue to contribute articles to Psychology Today and other publications. What have been some of the highlights of that part of your career?
Writing is one of my favorite things to do, and to see my byline in print never ceases to be a thrill. But if I had to choose some highlights, I'd say my first published article in the New York Times and my byline on the jacket cover of the book, "Drinking Diaries: Women Serve Their Stories Straight Up."
Why and how did you transition from journalism to positive psychology life coaching?
The truth is I haven't really transitioned from one to the other, but have rather added life coaching to my career. I have always been a curious person, which is why interviewing sources for articles is one of my favorite parts of the process. As a life coach, I get to similarly use my curiosity, only with my clients it's an opportunity to ask them the questions that enable them to see their capacity and strengths, and ultimately help them make choices and design the direction that they wish to follow — whether in life, work, or relationships.
For me, the beauty of being a writer and life coach is that I now get to write more pieces on the topics of health and wellbeing — such as positivity, gratitude, and mindfulness — which are also the focus of my coaching work.
What is life coaching? How did you discover your interest in it?
Being a life coach is more or less what it sounds like. As a coach, I first ask questions to find out what my clients are looking for (e.g. More positivity? Better work-life balance?). We then explore what strengths and successes they've had in the past, and explore ways to broaden and build upon them to design the future they are aiming for. I'm basically there for support and to encourage them — they already have the answers but need some coaching to see that.
My interest in life coaching began after I discovered the benefits of a meditation practice. Meditation and mindfulness propelled me to learn more about the impact of the mind-body connection, which led me to a yearlong certification program with the Wholebeing Institute and then a positive psychology coaching certification. I believe so much in the messages disseminated by the positive psychology movement — which was born at Penn with Dr. Martin Seligman — and feel fortunate and gratified to share the knowledge with others.
How do your own life experiences impact your approach to life coaching?
As a working mother, balance between family and work has been my top priority. I had the good fortune to be a freelance writer, part-time editor, and adjunct professor after my kids were born, each of which afforded me great flexibility. That balance, along with savoring positive moments and nurturing close relationships are what bring me joy and serenity — that both impacts and aligns well with my work as a coach.
What advice would you give stressed out college students who are thinking about how and where to begin their careers?
Good question. I think the first step is to ask yourself the following: Who do you want to be? In other words, what do you value most and how can you hold onto that as you move into this new phase of life? What are your strengths and how can you harness them? And what successes can you draw upon to help you explore and engage in this new path? 
Transitions can be challenging. And especially after college life. So my advice would be to stay true to who you are, and remain as present as possible — remembering to breathe and be mindful of your surroundings — because regret about yesterday's events and anxiety about tomorrow's are not going to change anything about what's happening right now, in this moment.