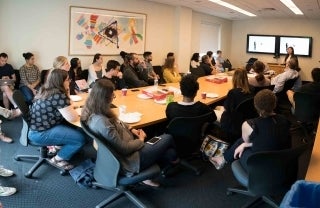 Curriculum and Milestones
Curriculum and Milestones
Our five-year Ph.D. program encourages students to design a course of study that suits their unique interests in the interdisciplinary field of Communication. 
Earning a Ph.D. is a transformative process that can open doors to many different career options. By nature, Communication is highly interdisciplinary, and our faculty and students bring to the school a tremendous diversity of backgrounds and interests.
Unlike programs that direct students into "tracks," the Annenberg School encourages its students to design a curriculum that suits their own particular interests. It also embraces multimodal scholarship that utilizes forms such as film, audio, visual art, and performance.
The Annenberg Ph.D. program represents a five-year commitment. The classroom experience is designed to help students develop a methodological toolkit that allows them to approach any research question and gain a rigorous theoretical grounding in the field.
From the earliest days of their program, students have the opportunity to partner with faculty on research, and to develop plans for their own. Ultimately, these research projects lead a student to develop their dissertation.
A typical timeline for a student entering ASC without a Master's degree is:
Continue reading to learn more about the coursework and milestone events involved with earning an Annenberg Ph.D. More detail about each of these can be found in the graduate student handbook.
The Curriculum
The Annenberg Ph.D. program is structured to provide flexibility for students, in regular consultation with their advisors, to design a personalized curriculum tailored to their specific interests. A well-chosen set of courses should provide students with an understanding of the field broadly, coupled with more in-depth knowledge of the theories, methods, and research findings most relevant to their area of specialization.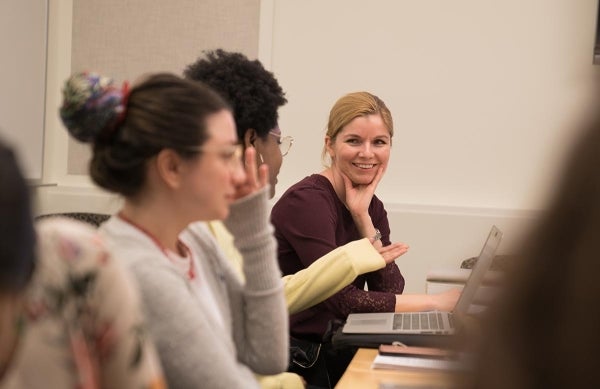 Twenty classes are required for the Ph.D.; up to five of these may be transferred from a previous Master's program with approval from the student's academic advisor. (Please note that transferring three or more classes will reduce funding by one semester.)
All students are required to take a non-credit Proseminar (COMM 500) in their first semester. This course provides an introduction to the field of Communication and is taught each week by a different member of the graduate faculty, giving students a chance to get to know them further.
Students are also required to take the methods-focused Introduction to Communication Research (COMM 522) and Qualitative Ways of Knowing (COMM 523) at Annenberg and an introductory statistics course (most commonly those offered through the Department of Sociology, Political Science or the Wharton School).
While no other specific courses are required, all Ph.D. students must take a course with each of at least five different members of the ASC graduate faculty, with the goal of ensuring students encounter a diverse range of approaches to Communication.
Annenberg offers more than a dozen graduate courses each semester, drawn from a list of 60 courses covering a wide range of topics related to communication and media. These courses are taught by our graduate faculty, as well as visiting faculty from around the globe. 
Unlike programs that direct students into "tracks," the Annenberg School encourages its students to design a curriculum that suits their own particular interests.
Students may take as many as six courses from outside the Annenberg School. These may be courses students transfer in from other master's degree programs, or those taken from any of Penn's 12 graduate and professional schools.
Students typically take three courses per semester, though with permission from their advisor, they may enroll in as many as four.
In order to be considered in good academic standing and be eligible for funding, students must maintain a minimum grade point average of 3.5.
Research Project 
In order to establish a student's ability to formulate, carry out, and write up independent scholarly research, each student is required to complete a research project by the end of the term in which they complete 12 courses (including those they may have transferred to Annenberg). For students who are not transferring any credits into the program, this would mean the end of the fourth semester. Those who do transfer course credits may need to complete the research requirement sooner.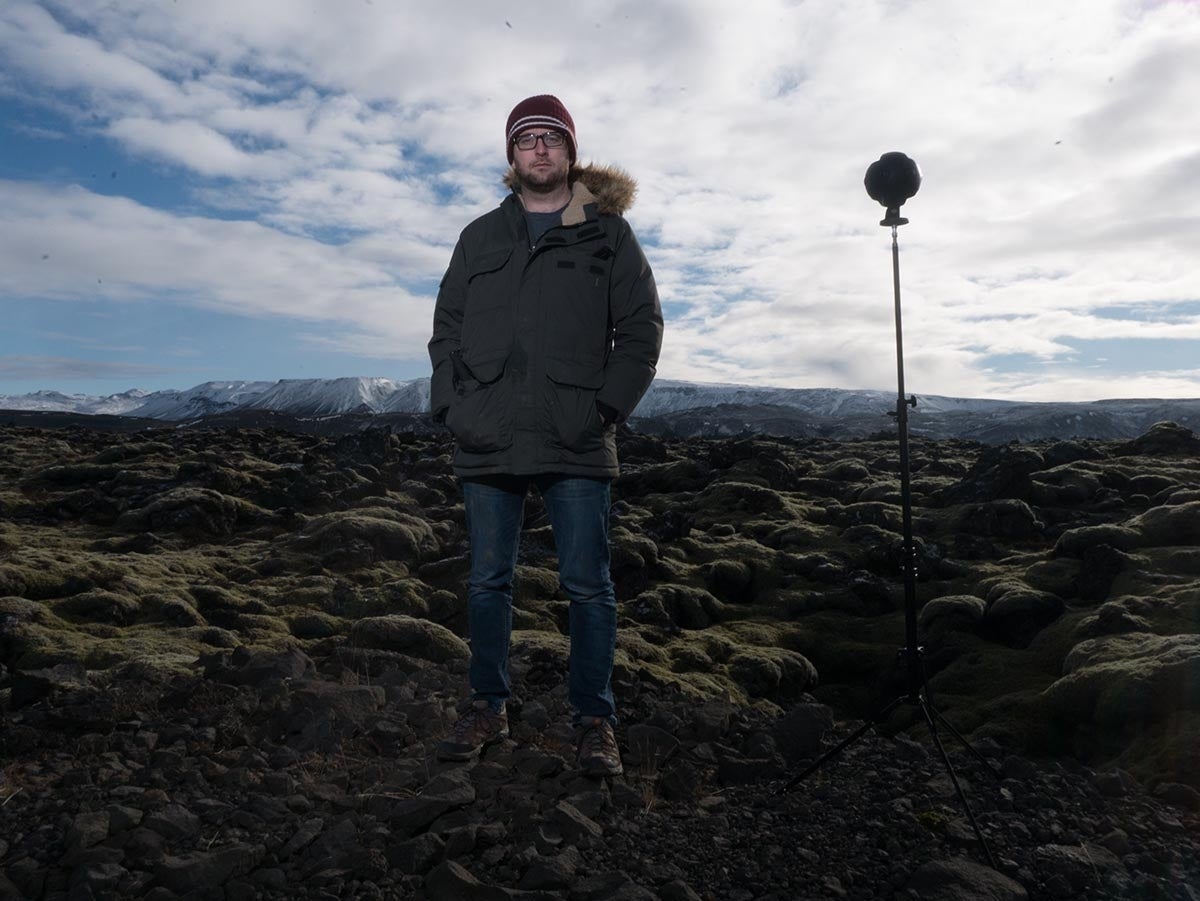 The scope and framework of the project will be decided by the student and advisor. The project may be undertaken as an independent study, an extension of work undertaken in a course, or as work done as part of a research fellowship. The research will be conducted under the supervision of the student's advisor or another graduate faculty member.
The product of the research project must be an article appropriate for submission to a refereed journal, a paper appropriate for submission to a scholarly convention, or an equivalent. Both the student's advisor and a second graduate faculty member must approve this final research product.
Selecting an Advisor
Choosing an academic advisor is an important decision for each student to make. The advisor's primary role is to help the student plan coursework and research suited to the student's needs in preparation for the comprehensive examination and dissertation.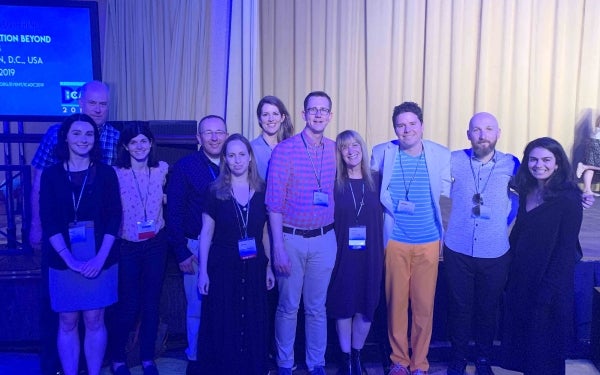 While students often enter the program with a sense of which faculty member(s) they might like to work with, the Associate Dean for Graduate Studies serves as the primary academic advisor to all entering graduate students. By the end of the second semester in the program, each student is expected to have chosen a main area of research specialization and to have an advisor, who must be a member of the Annenberg School's graduate faculty.
First-year students have the opportunity to meet with much of the graduate faculty through Proseminar (COMM 500), a non-credit course designed in part to familiarize students with ongoing faculty research. Once they have begun the program, students are also encouraged to arrange meetings with the faculty members in whose research they are interested to discuss advising possibilities.
The QE is a progress review conducted to ensure doctoral students have the requisite skills, creativity, initiative, and plans to successfully complete their dissertation and degree. The QE must be completed at the end of the semester during which the student accumulates 12 classes (at least eight of which must be acquired at Penn) toward the degree, but no earlier than the end of the first year. All students must pass the QE to complete their coursework and take comprehensive exams. 
Each student prepares a QE dossier, which will be reviewed by the Graduate Studies Committee. The dossier consists of:
A list of all graduate courses completed while at Annenberg/Penn, including the grade received for each
A list of all courses the student is currently taking as well as those they plan to take in order to complete required coursework
A list of graduate-level courses taken at other institutions for which a student has or is planning to request transfer credit
A list of the proposed chair and members of a student's Comprehensive Exam committee
A completed research paper/project, based on work done at Annenberg and approved by the student's advisor and one other graduate faculty member, that demonstrates the student's ability to conduct original research
A description of the student's proposed dissertation topic that articulates the topics, concepts and methods that most interest them and situated in a body of existing theory and research. While not a full proposal, it articulates the research questions the student might address in a dissertation.
Any evaluations the student has received regarding research and teaching
A written evaluation by the student's academic advisor assessing progress to date in the program, and their ability to carry out dissertation-quality research
Before a student can defend their dissertation proposal and receive their fifth year of funding, the student must pass a comprehensive examination. This exam, written for each individual student by their academic advisors, cover theory, methods and research in the student's field of expertise. 
This exam is offered twice per year and lasts for three days. It can take place after a student has passed the QE, and must be taken by the student's final semester of coursework, or early in the following semester.
Once the student has passed the comprehensive exam, they are considered a "doctoral candidate."
Before receiving their dissertation research fellowship, which offers funding for the fifth year of the program, and beginning work on the dissertation, each student submits a formal written dissertation proposal and defends it to their dissertation committee. The proposal is a full statement of the research problem, including its theoretical rationale and methodology. 
A student's dissertation committee, who will evaluate both the proposal and the completed dissertation, consists of three Annenberg standing faculty, plus faculty from other departments where appropriate. The student's main academic advisor typically serves as the committee's chair. The committee members serve as resources to the student throughout the dissertation process and offer constructive feedback.
The writing of a dissertation, which typically takes place over the course of a year or more, is the capstone of the Ph.D. and a monumental achievement. A finished dissertation should make an original contribution to knowledge, building upon the existing research and theories.
Written dissertations can run more than 100 pages in length, though there is no fixed requirement. On occasion, students have been permitted to incorporate film and other multimedia into their dissertation.
Depending on the nature of the research, students do not necessarily need to be in residence at Annenberg while writing a dissertation, though students living elsewhere typically return to complete their defense.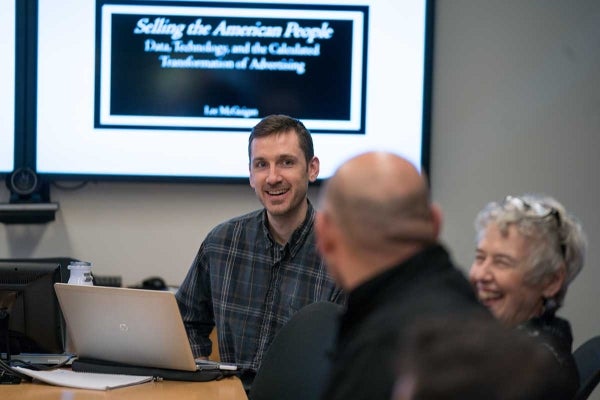 Once the dissertation is completed and submitted to the dissertation committee members for review, the student makes a public presentation followed by a private meeting with the committee in which the student is asked questions. The committee will then decide to accept the dissertation.
The community celebration following a dissertation defense is always a joyous one, honoring the monumental achievement of completing such a significant body of research. Following a successful dissertation, students can begin using the degree letters "Ph.D."  after their names. The defense is fully complete when the student makes the revisions suggested by the committee and "deposits" a written copy with the University. 
Degrees are conferred in May, August, and December of each year, with formal commencement ceremonies taking place in May. The University of Pennsylvania requires students to complete their degree within 10 years of starting the program.
For More Information
More detail about each of the subjects above can be found in the graduate student handbook. The University of Pennsylvania also maintains academic rules for all its Ph.D. programs.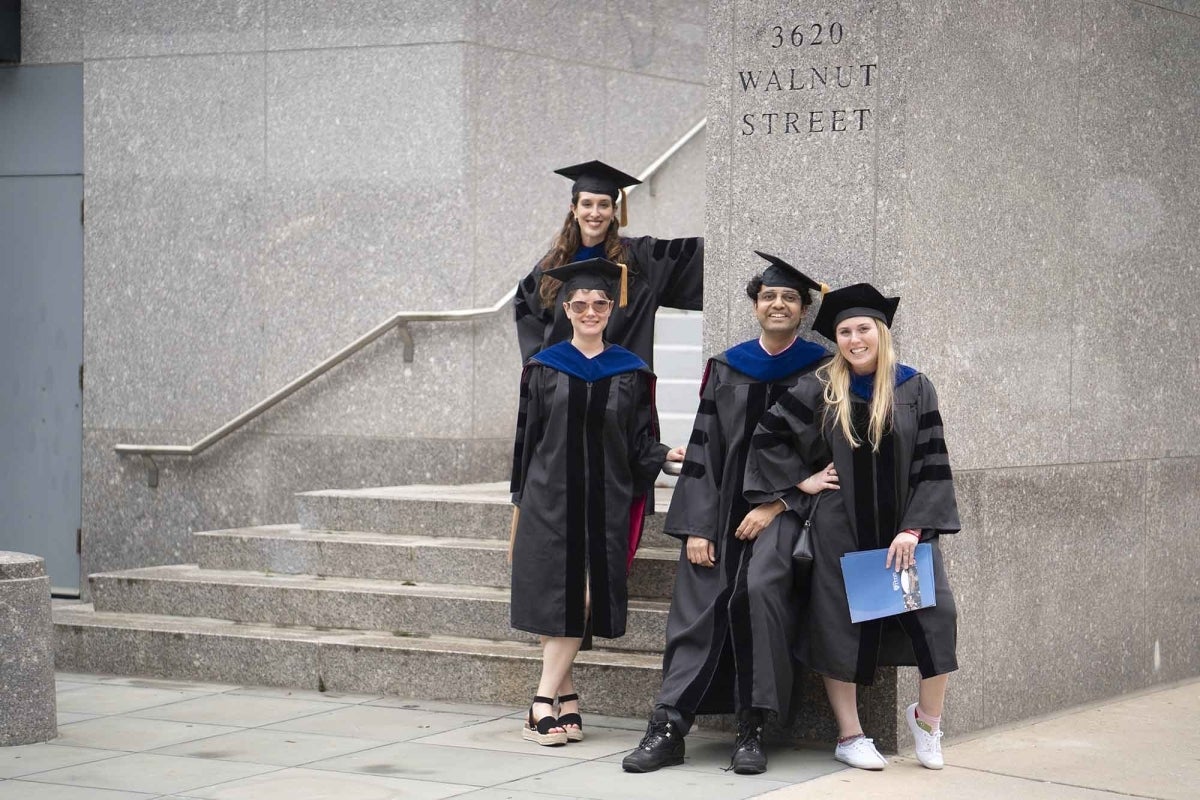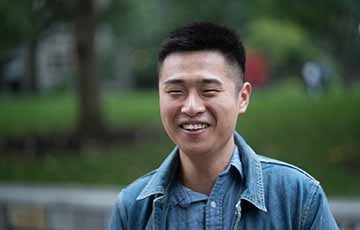 "I feel very lucky to be a part of this community. I have had the opportunity to learn from those big names who repeatedly appear in my reference lists and Communication textbooks, and great support from faculty and staff that gives me the freedom to explore new research, even as a Ph.D. student."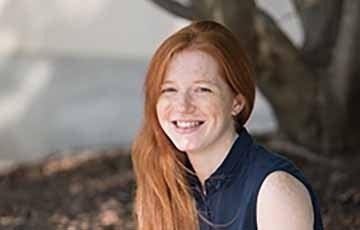 "Before pursuing a Ph.D., everyone told me the most important thing was to find the right advisors. During my first semester at Annenberg I found faculty who cared deeply about my academic progress and personal wellbeing. At school events I was able to dialogue in small groups with leading guest scholars in my field, finding mentors and building a diverse professional network."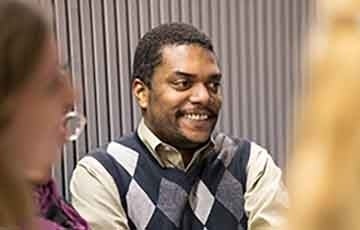 "An outstanding quality of Annenberg's Ph.D. program is the comradery within the graduate student cohorts. My cohort keeps me connected, grounded, and motivated. Genuine support exceeds superficial competitiveness. I have learned a lot from conversations and brainstorms I've shared with peers who are at different stages of the program."