Communication Major Alumna Q&A: Lisa Serad (C'07), Head of Pet Therapy at CHOP
Serad discusses being a non-traditional undergraduate and her pet therapy career.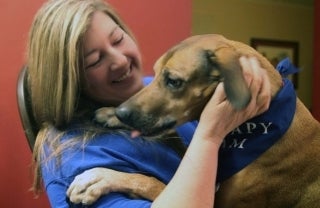 In celebration of the 40th anniversary of the Communication major at Penn, each Monday this semester we're running a series of Q&As with notable alumni, which continues today with Lisa Serad (C'07).
Lisa Serad graduated from Penn in 2007, after completing her bachelors degree part-time while working full-time. Serad also holds a master's degree from Penn. She is currently heading the Gerald B. Shreiber Pet Therapy Program at the Children's Hospital of Philadelphia, where she uses her professional experience in program and operations management, her nearly twenty years of animal traning, and her communication skills to build a program in an emerging field.
Before coming to Penn, you worked for more than 15 years in program and operations management roles. What drew you to the Communication major at Penn?
I joke with my friends that I was on the "20 year plan" when it came to college. I went to Penn as a non-traditional student; I was in my late thirties and had worked in project, program, construction, and operations management. I'd attended other schools, and realized it was time to finish the undergrad degree that I started so long ago. When I first went to college, I went to an art and design school, but found that I was more interested in the messaging behind all of that, so Annenberg was right up my alley. Before I decided on a major, I was in a Penn Sociology class and one of the other students was a Comm major. I was so drawn in to the messages behind her presentation, drawing from what she was learning in her Comm classes. I was hooked! Initially, I took evening and summer classes, but was later able to take daytime classes on my lunch break. I worked with the husband of a Comm major and Annenberg Ph.D. student (Jessica Taylor Piotrowski (C'04, Ph.D. '10)), and I looked upon her as my unofficial mentor/advisor as I would try to figure out which class to squeeze in to my work schedule that semester.
How did you get into the field of pet therapy?
I have been volunteering in pet therapy since 1992. I had an aunt who asked me if I knew anyone with therapy dogs to visit the nursing home where she worked. Everyone I knew was simply too busy, so I thought, "I've got a really nice, well-trained dog. Let me see if he can pass the test to be a registered therapy dog." That, coupled with the fact that I taught dog obedience classes part time, led me to become a therapy dog evaluator with one of the national therapy dog registries. I volunteered in many settings over the years, but I love working with kids, so I kept volunteering at CHOP as the other places dropped off my volunteer radar. When CHOP got an endowment for its pet therapy program, I jumped at the chance to work there! Over the years, I've worked with five dogs as a volunteer, and my youngest dog, a nearly three year old Ridgeback named Tarot, works full time two to four days a week with me.
What is your role at the Children's Hospital of Philadelphia?
Since this is still an emerging and evolving field, I wear many hats. In addition to working with patients using my own dogs, I am recruiting and training our volunteer teams; evaluating existing policies and procedures; and providing recommendations to new practice changes to improve both volunteer, staff, and patient and family experience. I have to keep abreast of the changing legal climate as it relates to this emerging field, and be a resource across the hospital on this and related topics, including service dogs and emotional support animals. I put together a multidisciplinary team to devise, revise, implement policies and procedures, in addition to staff education. I occasionally work with local and regional legislators on pending legislation around this emerging field. I get to partner with our PR and Marketing teams to educate the public about the CHOP Program and pet therapy in general. Last, but certainly not least, I get to work with some amazing people at PennVet. They pre-evaluate all of our registered therapy dogs before the dogs enter the hospital, and we depend on their advice in terms of physical requirements of the dogs in the program.
How did your Communication coursework and knowledge prove useful in your career?
A couple courses jump to mind. COMM 225: Children and Media was one of the first courses I took, and I'm still fascinated by the field. A lot of the child development work we did I still use today. COMM 125: Introduction to Communication Behavior was a fantastic course to help me really think critically and learn to look at data. Dannagal Young (Ph.D. '07 and now Associate Professor of Communication at the University of Delaware) taught that course, and I still hear her voice telling us that you want to look at the data, not what someone else drew from the data. And I use what I learned in COMM 275: Communication and Persuasion on a daily basis. Overall, I learned to know my audience, how to package and present data tailored to that audience, and how to effectively craft a message using various media. Invaluable tools!
So much of training dogs is actually about pet owners. What has training animals taught you about people?
You are correct, it's actually teaching people to teach their dogs. What good is it to the client if their dog follows your instructions, but not theirs? I've done a lot of staff training over the years, and use many of the same ideas and techniques: be firm but fair; have great timing; make it fun; and meet them where they are, not where you think they should be. More than anything working with animals (I work with horses, too.) has taught me patience. Both with them, and with myself.
What advice would you give to current Comm majors who hope to combine their passions with their career endeavors?
Be patient, and always look on the horizon. Never stop learning: after Annenberg, I got my M.S. in Organizational Dynamics at Penn, and did some additional Recreation Therapy graduate coursework at Temple. Read the latest research - you don't have to learn in a classroom! What I do still isn't really a "field" yet. It's getting there, but we still have a way to go. I went to a summit in Texas last spring, and there were 50 of us, from various disciplines, working with dogs in pediatric hospitals. Of the 50, only two of us sourced and trained our own dogs. Whenever I'm asked to guest lecture or speak to students, I always tell them that this may not be an actual "field" during my career, but it will be during yours. Art therapy and music therapy are now credentially fields, but that has only happened in the last 40-50 years. The business landscape is far different than it was 20, or even 10 years ago. Tech jobs barely existed the first time I went to college, and look where we are now. Change is a good thing, so keep looking for it. If what you are passionate about is not yet a field, volunteer. You may learn a lot, and will be more prepared when it is a viable profession.
Don't miss our interviews with the Washington Post's Ashley Parker (C'05), Teach for America's Mika Rao (C'96), Northwestern University's Jabari Evans (C'04), Baked By Yael's Yael Krigman (C'02), and life coach Caren Osten Gerszberg (C'86).