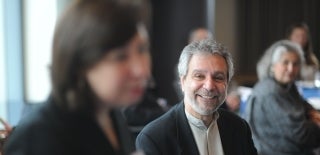 The Delli Carpini Years (2003-2018)
The Delli Carpini Years (2003-2018)
Under Dean Michael X. Delli Carpini (2003–2018), whose expertise focuses on political communication, the School's academic expertise expanded into new areas. The full-time faculty grew from 16 to 24, bringing in an influx of diversity to the School, demographically, methodologically, substantively, and in terms of disciplinary backgrounds. During this time, the Ph.D. program also expanded, more than doubling to roughly 80 doctoral students enrolled at any given time. 
New faculty hires included Dolores Albarracín; Damon Centola, Emily Falk, Sandra González-Bailón, Amy Gutmann (Penn's President); Keith Hampton, John L. Jackson, Jr. (ASC's current dean), Yphtach Lelkes, Jessa Lingel, Sharrona Pearl, Victor Pickard, Monroe Price, Julia Ticona, and Guobin Yang. During this time, Diana Mutz, who was then tenured in Political Science with a secondary appointment at Annenberg, was given a joint appointment on the standing faculty at Annenberg. In addition, Delli Carpini was instrumental in the subsequent hiring of Sarah J. Jackson and Duncan Watts, completed under the deanship of John Jackson.
Through these hires the School built on its existing strengths in political institutions, political communication, health communication, and communication and culture, while expanding expertise into the areas of global communication, and digital and social media. The School also expanded its methodological expertise to include cutting edge approaches such as computational science, network analysis, and neuroscience. These substantive and methodological advances have been instrumental in keeping the School oriented toward the evolving horizons of the field's knowledge base.
The Delli Carpini years also saw tremendous growth in the number and diversity of academic centers, projects, and labs affiliated with the School. These included the Center for Global Communication Studies (led by Monroe Price), which later evolved into the Center for Advanced Research in Global Communication (led by Marwan Kraidy); the Scholars Program in Culture and Communication (led by Barbie Zelizer), which later became the Center for Media at Risk; the Communication Neuroscience Lab (led by Emily Falk); the Media Inequality & Change Center (led by Victor Pickard, and later also by Sarah J. Jackson); and the Penn Tobacco Center of Regulatory Science (led by Robert Hornik and Joseph Cappella).
Under Delli Carpini, Annenberg strengthened its ties to other Penn schools, through joint initiatives, grants, and faculty appointments. Annenberg was the lead School in the 2006 hire of Penn's first interdisciplinary Penn Integrates Knowledge (PIK) professor, John L. Jackson, Jr., who would become Dean of Penn's School of Social Policy and Practice in 2015 and subsequently Dean of the Annenberg School in 2019. 
Other joint appointments included Amy Gutmann (Political Science), John Jemmott (Perelman School of Medicine), Diana Mutz (Political Science), Guobin Yang (Sociology), and later, Duncan Watts (Engineering and Wharton). The School also launched a joint Ph.D. program with Political Science.  
Annenberg's architectural footprint also changed significantly during Delli Carpini's tenure as dean. 
In 2004, the architecture firm Mitchell Giurgola, led by architect Romaldo Giurgola, completed another addition to the School building, completing the large first-floor classrooms, updating the Annenberg Plaza which sits atop them. In 2008, Mitchell Giurgola also completed a renovation to the Annenberg Library, restructuring the space to make it more inviting to both reflective study and collaborative learning. By the end of Delli Carpini's tenure, the footprint of the Annenberg School building had grown to 92,900 square feet — nearly double its original size.
In 2009, the Annenberg Public Policy Center relocated to its new 55,000-square foot building adjacent to the School. To accommodate the growing faculty and their research labs, in 2016, Annenberg researchers also expanded into office space in Richards Hall and 3901 Walnut St.
Back: The Jamieson Years                               Next: The Jackson Years
Photos of the Annenberg School from 2003 to 2018.