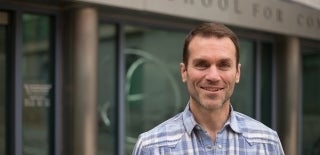 Annenberg School Peace and Neuroscience Research Fund
Established in the loving memory of Emile Bruneau, Ph.D.
"Putting science to work for peace" was the defining mission of neuroscientist Emile Bruneau, Ph.D., who tragically passed away in 2020 after a two-year battle with brain cancer. Bruneau, a research scientist at the Annenberg School for Communication, believed that by understanding how the human mind drives groups of people to conflict, we can design interventions that pull them back from conflict and bring about peace.
And he did just that, finding through experimentation that there are ways to shift people's empathy, to correct the perceptions groups have about one another, ultimately to lessen the kind of dehumanization and extreme hatred that lead to violence.
From the moment of his diagnosis, Bruneau worked tirelessly to ensure that the pursuit of peace through neuroscience would continue beyond him. This fund was established in furtherance of that aim, to support peace and conflict neuroscience research aimed at healing divisions between groups of people and bring peace to the world we live in today.
Donate to the Annenberg School Peace and Neuroscience Research Fund