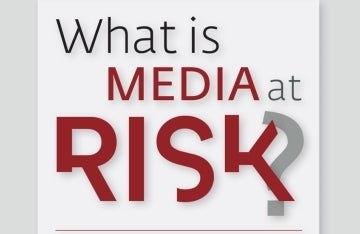 Center for Media at Risk Launch Symposium
April 19-21, 2018
6:00pm
University of Pennsylvania
Audience
Open to the Public, but Registration Required
"What is Media at Risk?"
The event has ended, but is available to watch on YouTube:
About the Event
"What is Media at Risk?" is a cross-disciplinary conference bringing together media practitioners, media scholars, and media assist organizations to define what "media at risk" means globally in circumstances of political intimidation and what can be done to resist it. Given the proliferating nature of creeping authoritarianism around the world, these efforts will help highlight Penn's mission to explain more fully what political intimidation in the media — in documentary, journalism, entertainment, and the digital environment — looks like worldwide.
Schedule
Thursday, April 19
6:00pm
OPENING REMARKS + RECEPTION
Soraya Chemaly, Co-Founder & Director, Women's Media Center Project — "Who Defines Risk and Why It Matters"
Friday, April 20
9:15am – 9:45am
BREAKFAST
9:45am – 10:00am
WELCOME + INTRODUCTORY REMARKS
10:00am – 12:00pm
DIGITAL
Bethany Wiggin, Founding Director, Penn Program in Environmental Humanities (moderator)
Maria Ressa, C.E.O. and Executive Editor, Rappler — "Exponential Lies (and How to Fight Them)"
Samuel Sinyangwe, Co-Founder, Mapping Police Violence and Campaign Zero — "The Challenges and Possibilities of Digital Activism"
Amy Siskind, President and Co-Founder, The New Agenda — "Writing History in the Age of Social Media"
Zeynep Tufekci, Associate Professor, University of North Carolina — "The New Censorship: If Everything is Potentially Fake, What Role for Journalism?"
12:00pm – 1:00pm
LUNCH
1:00pm – 3:00pm
ENTERTAINMENT
3:00pm – 3:15pm
BREAK
3:15pm – 5:15pm
DOCUMENTARY
John Jackson, Dean, School of Social Policy and Practice, University of Pennsylvania (moderator) 
John Caldwell, Professor, University of California Los Angeles — "Documentaries in Risk-Delegation Systems"
Sam Gregory, Program Director, WITNESS — "Diversifying 'Media' at Risk: Challenges for Eyewitnesses, Media Activists and Human Rights Media Makers"
Simon Kilmurry, Executive Director, International Documentary Association — "Dangerous Docs: Filmmakers Under Attack"
Bryce Renninger, Managing Editor, Field of Vision — "Risk and Short Films in an Attention Economy"
5:15pm – 7:00pm
RECEPTION
Saturday, April 21
9:30am – 10:00am
BREAKFAST
10:00am – 12:00pm
JOURNALISM
Michael X. Delli Carpini (moderator) 
Arzu Geybulla, Freelance Writer — "No Longer Just a Risk, But an Everyday Reality: Stories from Azerbaijan"
Parker Higgins, Director of Special Projects, Freedom of the Press Foundation — "Protecting Journalists in the Age of Trump"
Jay Rosen, Author, PressThink — "The Campaign to Discredit the Press"
Silvio Waisbord, Professor, George Washington University — "Who Cares? When Society Fails to Safeguard Journalists at Risk"
12:00pm – 2:00pm
LUNCH + CLOSING REMARKS
Interlocutors
Ra'anan Alexandrowicz, Documentarian
Sarah Banet-Weiser, Professor, Annenberg School for Communication, University of Southern California
Nick Benequista, Research Manager and Editor, Center for International Media Assistance
Ruth Ben-Ghiat, Professor, New York University
Charlie Beckett, Professor, London School of Economics
Caty Borum Chattoo, Director, Center for Media and Social Impact
Aymar Jean Christian, Assistant Professor, Northwestern University
Susan Douglas, Professor, University of Michigan
Jonathan Gray, Professor, University of Wisconsin, Madison
Daniel Grinberg, Doctoral Candidate, University of California, Santa Barbara
Lisa Henderson, Professor, University of Massachusetts, Amherst
Tom Herman, Director, Producer, and Lawyer
Judith Matloff, Nonfiction Author
John Nerone, Professor Emeritus, University of Illinois at Urbana-Champaign
Nelson Ribeiro, Dean, School of Human Sciences, Universidade Católica Portuguesa
Sylvia Ryerson, Radio Producer and Journalist
Ivan Sigal, Executive Director, Global Voices
Sky Sitney, Co-Creator and Co-Director, Double Exposure
Nikki Usher, Associate Professor, George Washington University
Todd Wolfson, Associate Professor, Rutgers University
...and more 
Student Committee
Megan Genovese
Jennifer R. Henrichsen
Muira McCammon
Hanna E. Morris
Aaron Shapiro
Center for Media at Risk
We are in unchartered waters. Political intimidation threatens media practitioners worldwide, and disinformation campaigns destabilize public trust. The Center for Media at Risk offers the chance to strategize in response to threatening political conditions. Knowing how media practitioners in documentary, journalism, entertainment, and the digital environment work under political threat—and how they can resist its impact — helps save the media.
If you would like to be added to the Center for Media at Risk events list serve, please contact Emily Plowman.