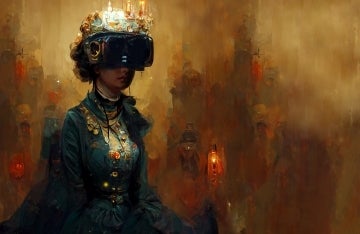 Yesterday's Future: The Centuries-Long Quest For Virtual Reality
September 15, 2022
3:30pm-5:00pm
Audience
Open to the Public
This talk brings experts to discuss and historicize the intellectual and technological foundations of our long virtual reality (VR) mission.
About the Event: 
Virtual reality is a constantly evolving, unstable, and unfinished user experience. Yet, the quest for transcending oneself and one's surroundings and being immersed in worlds beyond our reach has been a rather stable mission throughout history. This talk brings into conversation experts John Pavlik, Rita Lauria, and Brad Hafford to discuss and historicize the intellectual and technological foundations of our decades-long virtual reality (VR) mission. The presenters offer an array of historical examples including the séances of the Spiritualist movement, the intellectual roots of virtuality, and the ancient roots of immersive storytelling to tease out the fundamental concepts driving our persistent quest to experience modified realities. In turn, this talk lays the foundations for a more critical and nuanced understanding of today's VR developments and the hype surrounding them.  
  
Audience members are encouraged to actively partake in the discussion. Following the hybrid talk, there will be an in-person workshop of some of the virtual reality tools available at the Annenberg School.  
 
The Annenberg Virtual Reality ColLABorative supports critical, intellectual, and technical exploration of virtual reality technologies in society. For more information about the event, workshop, or the Annenberg Virtual Reality Collaborative hosting this event please email: vr@asc.upenn.edu.
About the Presenters: 
John Pavlik, Ph.D., is a professor of journalism and media studies at Rutgers University. Pavlik has researched and written widely on the impact of new technology on journalism, media and society. His books include Disruption and Digital Journalism, Journalism in the Age of Virtual Reality, Converging Media, Media in the Digital Age, Journalism and New Media, and The People's Right to Know. He is co-developer of the Situated Documentary, a form of location-based storytelling using Augmented Reality and 360-degree video. He has served as a judge of the News & Documentary Emmy Awards for more than three decades. He is past chair of the editorial board for Television Quarterly, the journal of the National Academy for Television Arts and Sciences, which awards the Emmys. He is a former contributor to CNN.com, having written on the consequences of technological change for media and society. Pavlik has also authored more than a dozen computer software packages for education in journalism and communication, including newsroom reporting programs "Fire!", "Fatal!," and "NewsSim." While on leave from Rutgers in 2013, he served as the inaugural Associate Dean for Research for Northwestern University in Qatar, where continues to conduct funded research on emerging media.  Pavlik's Ph.D. in Mass Communication (1983) is from the University of Minnesota.  
  
Rita Lauria, J.D., Ph.D., is Collegiate Professor, University of Maryland Global Campus; Counselor of Law, Metalaw®.US; and Research Associate, Media Interface and Network Design (M.I.N.D.) Labs. Lauria works cross-contextually across fields to distill fundamental principles applicable to constructing a conceptual framework for the understanding of virtuality. She is interested in the quality of consciousness in relation to electric sensibility. The goal of intelligence augmentation drives Lauria's interests as she focuses upon the paradigm shift occurring as a result of the pervasive use of metamedia that generate vitrtualities. Pragmatically, her work explores psychological, philosophical, and aesthetic considerations for the design and use of interactive, computational media. Previously, she served as Special Advisor for Communications and Assistant Secretary to the Secretary of Transportation, Communications, and Infrastructure of the Federated States of Micronesia, where she witnessed first-hand the diffusive and transformative nature of new communication media upon the indigenous people of the Pacific. Rita's earlier work The Law and Regulation of International Space Communication still stands as a foundational reference work in international telecommunications law and policy. 
  
William (Brad) Hafford, Ph.D., is an archaeologist and Research Associate at the University of Pennsylvania Museum of Archaeology and Anthropology (Penn Museum). He is a field director of the excavations at the ancient city of Ur in southern Iraq, one of the first cities to arise in the world some 5,000 years ago. Hafford is particularly interested in the origin of urban centers in Mesopotamia and has written articles about proto-urban centers such as Tepe Gawra and Khafaje, and fully urban centers like Ur and Nippur. He led the Ur Digitization Project from 2012-2015, creating a digital archive of notes, reports, and artifacts from the excavations conducted there from 1922-1934 and is now using 3D-modeling technology to virtually reconstruct parts of the ancient city. His research into early urban trade networks has led him to questions of the transfer of not just goods, but of knowledge and stories across the ancient world. 
About the Moderators: 
Katerina Girginova, Ph.D., is co-founder of the Annenberg Virtual Reality ColLABorative and creative communications researcher. Katerina examines global virtual events, audiences and creativity and has previously worked at the National Geographic Channel, and as Editor-in-Chief for Gnovis Journal. 
Kyle Cassidy, co-founder of the Annenberg Virtual Reality ColLABorative, is a technologist and visual artist. In 2020, he was awarded the University of Pennsylvania's Model of Excellence award for his work in creating the Penn Working Group on Virtual Reality. He has a keen interest in using virtual technologies to bring people together and is the creator of the Hotkeys distance learning platform.
 
Disclaimer: This event may be photographed and/or video recorded for archival, educational, and related promotional purposes. We also may share these video recordings through Annenberg's website or related platforms. Certain events may also be livestreamed. By attending or participating in this event, you are giving your consent to be photographed and/or video recorded and you are waiving any and all claims regarding the use of your image by the Annenberg School for Communication. The Annenberg School for Communication, at its discretion, may provide a copy of the photos/footage upon written request.