Annenberg Community Mourns the Death of Professor Emeritus Charles R. Wright, Sociologist of Mass Communication
Over the span of 45 years, Wright taught generations of Annenberg students.
Charles R. Wright, Ph.D., Professor Emeritus of Communication and Sociology and a member of the Annenberg faculty since 1969, passed away yesterday at the age of 90.
A distinguished sociologist of mass communication, Wright was noted for his functionalist analysis of media as codified in the 1959 book Mass Communication.
Born in 1927 in Pennsauken, New Jersey, Wright grew up in a working-class family during the Great Depression. His father was unemployed on and off through most of the 1930s, until the economy picked up upon the U.S. entry into World War II.
After getting turned away as a 16-year-old, Charlie successfully enlisted in the Navy a year later, serving as an electronic technician.
When the war ended, he enrolled as an undergraduate at Columbia in 1946 with only a vague interest in public opinion and communication. A charismatic teacher, the sociologist William Casey, encouraged him to apply to Columbia's graduate program in sociology, whose affiliated Bureau of Applied Social Research was already celebrated for its work on mass communication.
In the graduate program (1949–1954), where he earned his M.A. and Ph.D., Wright served as an assistant to sociology scholars Paul Lazarsfeld and Robert Merton, and began a lifelong collaboration and friendship with survey researcher Herbert Hyman. Wright became a professor of sociology at the University of California, Los Angeles (UCLA) in 1956, after a post-doctoral stint as a Columbia instructor.
At UCLA he continued his work with Hyman, which over the decades spanned projects — and major monographs — on education (The Enduring Effects of Education, 1975; Education's Lasting Influence on Values, 1979), program evaluation (Applications of Methods of Evaluation: Four Studies of the Encampment for Citizenship, 1962), and international development (Inducing Change in Developing Communities, 1967).
Wright also wrote his most groundbreaking volume, Mass Communication: A Sociological Perspective (1959), as a UCLA sociologist. The book, along with a much-reprinted journal article in 1960, made the case for a functionalist approach to communication. For decades, and across three editions, Mass Communication, has stood as a leading primer for students and faculty, charting an approach to media that foregrounds the social.
Especially in the discipline's early years, when psychological and medium-specific assumptions guided most research, Wright's book served as an influential and widely read plea to incorporate norms and roles, childhood socialization, and even social order into communication studies.
Wright took a leave from UCLA in the late 1960s to serve as the National Science Foundation's program director (1967–1969) in sociology and social psychology, after which he accepted an offer to join the still-young Annenberg School.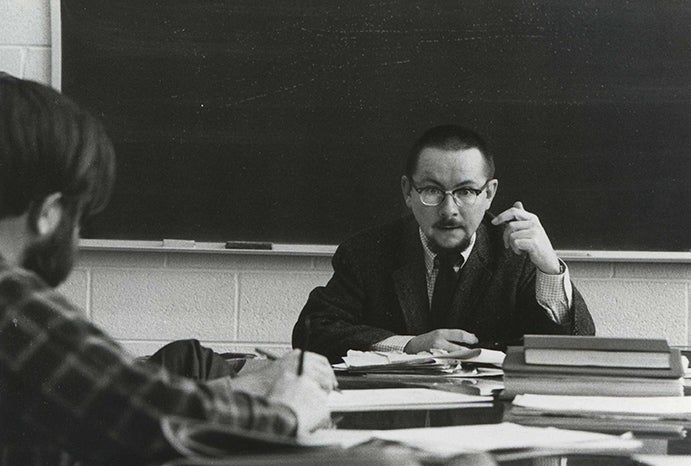 "I thought that with a whole school devoted to the study of communication, it would attract more students who were interested in the same kind of thing that I was interested in," Wright recalled last year, describing his decision to join Annenberg. "I think I was brought here to encourage and open the students' minds to concepts that come from sociology… Not that they had to do that, but they were to have that in their tool kit." 
Over the span of 45 years, and well after his formal retirement in 1996, Wright taught generations of Annenberg students — notably his signature graduate course, Sociology of Mass Communications. That course — and indeed Wright's career-long project to instill a sociological sensibility into communication research — had its roots in his mid-1950s teaching as a Columbia graduate student and instructor. In the intervening decades, Wright has left his mark on hundreds of colleagues and students, has devoted his long and distinguished career to bringing sociology to bear on the young discipline of communication.
"I knew Charles Wright the scholar of sociology and mass communications since I was a graduate student, though only through his many influential publications," said Annenberg Dean Michael X. Delli Carpini. "Fortunately I had the honor and pleasure of getting to know Charlie, the person, over the past 15 years. Students of Communication and Sociology will continue to have access to the scholar through his numerous and significant contributions to the field.  But Charlie will be sorely missed."
Wright was married to his wife, Anne Marie Wright, whom he met at Columbia, for 51 years until she passed away in 2001.
Last September, the Annenberg community gathered to celebrate Wright's nearly 50 years at the school. At the reception and dinner, Wright was lauded by colleagues and former students, who emphasized the impact of his work on their careers and told heartwarming personal stories.
Last year, Wright also participated in an oral history project with Muhlenberg College Professor Jefferson Pooley, targeting key figures in the history of communication research. The audio files and transcripts of those interviews with Wright, which cover the full breadth of his professional life, will be available in an online archive in the coming years.
"I couldn't have been happier than I was at the Annenberg School," he told Pooley last summer. "It's really, really been a good place."
A memorial service for Wright will be held on Tuesday, October 24 at 11am at Saint Denis Church in Havertown, Pa.