The Annenberg School Welcomes 13 New Visiting Scholars and Postdoctoral Fellows
Learn a little bit about the research interests of our new postdoctoral fellows and visiting scholars.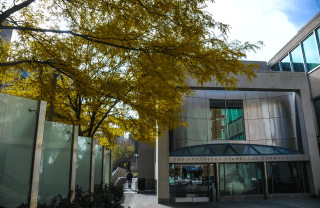 As the 2020-21 academic year begins, two new visiting scholars and 11 new postdoctoral fellows are joining the Annenberg School for Communication and our various research centers. These scholars will research alongside and collaborate with Annenberg faculty, staff, and students for anywhere from one semester to several years. We are thrilled to welcome them!
Visiting Scholars
Center for Media at Risk
Professor at the University of Wisconsin-Madison, Young Mie Kim's research concerns data-driven, algorithm-based, digitally mediated political communication.
Excellence Through Diversity Predoctoral Fellowship, University of Pennsylvania Provost's Office
Paulina Inara Rodis is a Ph.D. student at Pennsylvania State University interested in social networks, race and ethnicity, critical race theory, gender, feminist theory, intersectionality, violence and aggression, and social psychology.

Postdoctoral Fellows
Addiction, Health, and Adolescence (AHA!) Lab
Amanda L. McGowan's research examines the influence of health behaviors on cognitive function, scholastic performance, and brain health.
Center for Advanced Research in Global Communication (CARGC)
Jinsook Kim's research interests include digital media, online hate culture, and social and political activism in the context of contemporary South Korea.
Hana Masri examines matter's role in rhetorical constructions of migration, citizenship, sovereignty, and settler colonialism in contexts from the U.S.-Mexico borderlands to the Middle East.
A recent graduate of the Annenberg School, Revati Prasad studies the politics of technology and information access, including infrastructure, media and technology policy, and the journalism industry.
Center for Media at Risk
Richard Stupart researches the role of affect, emotion, and bodies in the practices of journalism under conditions of risk, with a particular focus on journalists working in situations of armed conflict, humanitarian emergencies, and severe repression.
Center on Digital Culture and Society
A recent graduate of the Annenberg School, Emily Dean Hund is interested in the intersections of social media and consumer culture, with particular expertise on social media influencers.
Natacha Yazbeck, a recent graduate of the Annenberg School, is a multimedia journalist and researcher focusing on race, rights, and invisible structures of discrimination in journalism and the impact of digitization on narratives around war and protest.

Communication Neuroscience Lab
Shannon M. Burns studies the processes through which people "get on the same page" as each other in conversation and discussion, and the extent to which psychological alignment is useful for group function.
George Gerbner Postdoctoral Fellowship
Sonia Jawaid Shaikh's scholarly interests include artificial intelligence, human decision-making and performance in individual and team contexts, human-computer interaction, and psychological and behavioral research in resource abundance and scarcity.
Media, Inequality & Change (MIC) Center
Malav Kanuga researches ethnographic and historical insight to explore the organization of freedom in the collective experiences of urban life, politics, and popular mobilization.
Timothy Neff focuses on media system structures that support civically accountable journalism and public engagement with social problems at the local and national level.

Welcome to Annenberg!