The Annenberg School Welcomes 18 New Visiting Scholars and Postdoctoral Fellows
From media anthropology to the philosophy of technology, these scholars' work spans the field of Communication.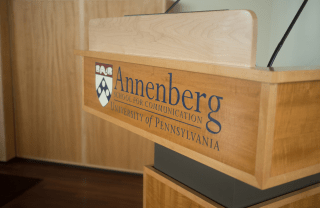 As the 2019-2020 school year begins, nine new visiting scholars and nine new postdoctoral fellows are joining the Annenberg School for Communication and our various research centers. These scholars will research alongside and collaborate with Annenberg faculty, staff, and students for anywhere from one semester to several years. We are thrilled to welcome them!
Visiting Scholars
Annenberg School
A former Mayor of Philadelphia, Michael Nutter is the David N. Dinkins Professor of Professional Practice in Urban and Public Policy at Columbia University's School of International and Public Affairs.
Aishah Shahidah Simmons is an award-winning Black feminist lesbian documentary filmmaker, activist, cultural worker, writer, and international lecturer whose work examines the intersections of race, gender, sexuality, and sexual violence.
David C. Wilson, Ph.D. is the senior associate dean for the social sciences in the College of Arts & Sciences at the University of Delaware and a full professor in the department of Political Science and International Relations.
Xinwei Wu is a Ph.D. candidate at the School of Journalism of Renmin University of China, and she studies communication theory, media archaeology, and German media theory.
A Ph.D. candidate at the College of Media and International Culture of Zhejiang University, Wei Yan researches publishing, cross-culture communication, and digital media.

Center for Advanced Research in Global Communication (CARGC)
Ergin Bulut, Ph.D. teaches courses on media industries, video game studies, media sociology, and media and populism at Koç University in Istanbul. He studies the political economy of media and cultural production and the philosophy of technology.
Assistant Professor of Film and Media at George Mason University, Hatim El-Hibri, Ph.D. is interested in global and Arab media and communication, visual culture studies, media infrastructure, and urban studies.
Center for Media at Risk
Natalia Roudakova, Ph.D. is a cultural anthropologist working in the fields of political communication, journalism, and media studies, with an interest in moral philosophy and political and cultural theory.
Professor in the School of Media and Public Affairs at George Washington University, Silvio Waisbord, Ph.D. researches media movements, media and human rights, and media sociology.
Postdoctoral Fellows
Center for Advanced Research in Global Communication (CARGC)
Padma Chirumamilla, Ph.D. received her doctorate in Information Studies from the University of Michigan, Ann Arbor. She examines how media infrastructures shape and are shaped by everyday cultural life and labor in postcolonial South India.
Interested in internet infrastructure and the unbalanced relations of power in internet interconnection arrangements, Fernanda R. Rosa, Ph.D. received her doctorate in Communication from American University.

Center for Media at Risk
A graduate of the department of Sociology at the New School, Zeyno Ustun, Ph.D. studies the historical, technical, and bureaucratic processes and the social and political conditions that facilitated the Gezi Resistance and other 21st century movements.
LaCharles Ward, Ph.D. received his doctorate in Rhetoric and Public Culture from the School of Communication at Northwestern University. He researches black visual culture, black feminist theory, race and technology, and black protest cultures.
Center on Digital Culture and Society (CDCS)
A recent graduate of the Annenberg School, Jasmine Erdener, Ph.D. specializes in gender and identity, digital media studies, and activism. She is interested in the ways modern digital and social media contrast with earlier notions of mass media.
Elisabetta Ferrari, Ph.D. is a recent graduate of the Annenberg School, and she studies the social and political implications of digital technologies, with an emphasis on activism, social movements, and social justice.
Communication Neuroscience Lab
A graduate of the University of Birmingham (U.K.), Bradley Mattan, Ph.D. is interested in understanding the links between social status, inequity, and health-related behaviors and outcomes.
George Gerbner Postdoctoral Fellowship
Jin Woo Kim, Ph.D. is a 2017 graduate of the Annenberg School. His research examines the effects of political (mis)information on public opinion, and he is interested in identifying communication effects based on real-world events.
Penn-Rutgers Tobacco Center of Regulatory Science (TCORS)
Nathan Silver, Ph.D. received his doctorate in Communication from The Ohio State University. He studies the role of life stressors such as attachment insecurity, anxiety, and identity-threat on processing and engagement with mediated messages.