Celebratory Evening Honors Professor Emeritus Charles Wright
The Annenberg community gathered to praise Wright's major contributions to the field and the impact he has made on so many people.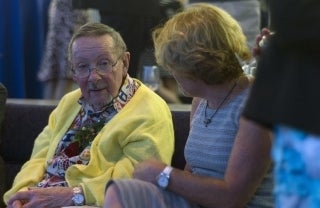 After nearly 50 years at the Annenberg School for Communication, Professor Emeritus Charles Wright, Ph.D., still comes to work at his office at 3620 Walnut Street. Only this year, at the age of 89, has he stepped down from teaching.
"We had a great conversation about it," said Annenberg School Dean Michael X. Delli Carpini, Ph.D. "And we both felt bad about it. It was bittersweet at best."
Wright, a pioneer in the field of sociology of mass communication, joined the faculty at Annenberg in 1969. Prior to that, he taught at the University of California, Los Angeles and Columbia University, where he earned his M.A. and Ph.D. in Sociology. In the graduate program at Columbia, Wright served as an assistant to Paul Lazarsfeld and Robert Merton, two founding figures in American Sociology. During this time, Wright also began a lifelong collaboration and friendship with survey researcher Herbert Hyman.
Wright is the author or co-author of seven books, including Mass Communication: A Sociological Perspective (Random House, 1959; republished in 1975 and 1986) and The Enduring Effects of Education (with Herbert Hyman and John Shelton Reed; University of Chicago Press, 1975 and 1978), along with dozens of articles and chapters.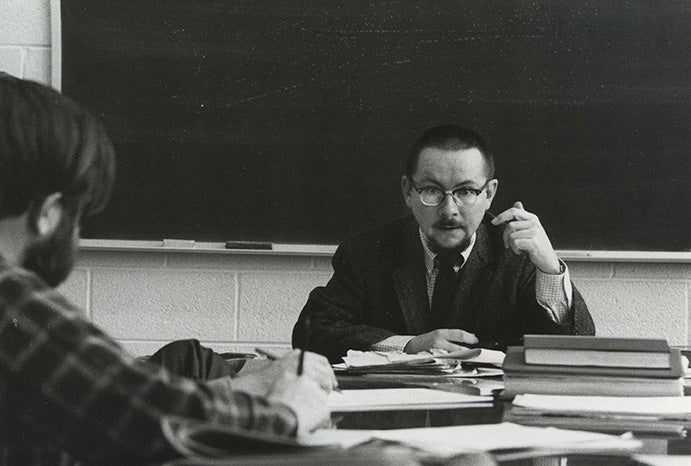 On Sept. 13, Wright was honored for his contribution to Annenberg at a reception and dinner hosted at the school. Colleagues and former students enthusiastically took the opportunity to express their gratitude.
One common theme was the influence of Wright's work to shape careers.
Paul Messaris, Ph.D., the Lev Kuleshov Professor of Communication, is an Annenberg faculty member who began his career in Communication as a student in Wright's undergraduate course. He spoke about the influence of Wright's book Mass Communication.
"That book came out when big changes were happening in the way people were writing," said Messaris, praising the book's content, function, and style.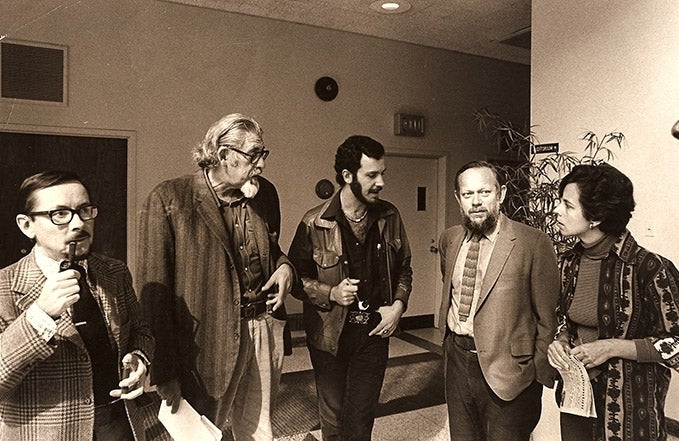 "Mass Communication has stood as a leading primer for students and faculty, charting an approach to media that foregrounds the social," said Jeff Pooley, Associate Professor and Chair of Media & Communication at Muhlenberg College. "Especially in the discipline's early years, Wright's text served as an influential and widely read plea to incorporate norms and roles, childhood socialization, and even social order into the study of Communication."
Pooley is creating a series of interviews with four Annenberg faculty — beginning with Wright — that is part of a larger oral history project targeting key figures in the history of communication research. Upon completion, they will be publicly available on the Annenberg Library's website, adding to the School's growing history of the field archives.
Delli Carpini also mentioned the impact Wright's work had on him. "I read Charlie's work as an undergraduate and graduate student, and it made me want to be a scholar," he said. "Being able to come here and be a colleague of Charlie Wright was a huge thrill for me."
"I made a decision to come to the Annenberg School for my graduate studies and later my doctoral work because Charlie Wright was there," said Hannah Kliger Peltz (MAC '77, Ph.D. '85), Professor of Communication and Jewish Studies at Penn State Abington.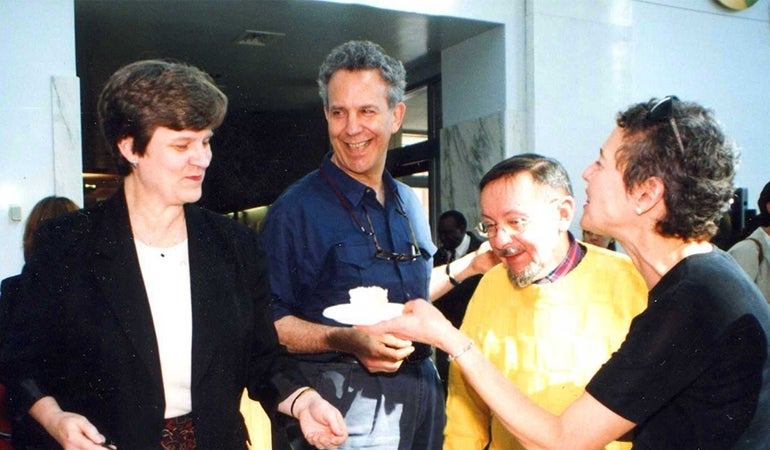 Others remembered Wright's unwavering commitment to his students.
"He was my professor when I was an undergraduate," Joseph Turow, Ph.D., said. "I had some cockamamie ideas, and he didn't make fun of me. He helped me work it out theoretically." Turow, Robert Lewis Shayon Professor of Communication and Associate Dean for Graduate Studies, is now Wright's colleague.
Chen Joanna Lei (MAC '84, Ph.D. '96) recalled her time as Wright's research and teaching assistant. "Conversations at his desk, with papers piled all over the study and the sunlight coming in the window are my most treasured memories of Annenberg," she said. In addition to managing a financial advisory company, Lei is a popular media and political columnist and TV commentator in Taiwan and China.
"As a teacher and a mentor," said Josephine Holz (MAC '76, Ph.D. '81), "Dr. Wright was always helpful, always supportive, and always took the time to talk to me, as he did with all of his students." Holz, who has had a distinguished career in media research, is a former Visiting Research Fellow at the Annenberg Public Policy Center.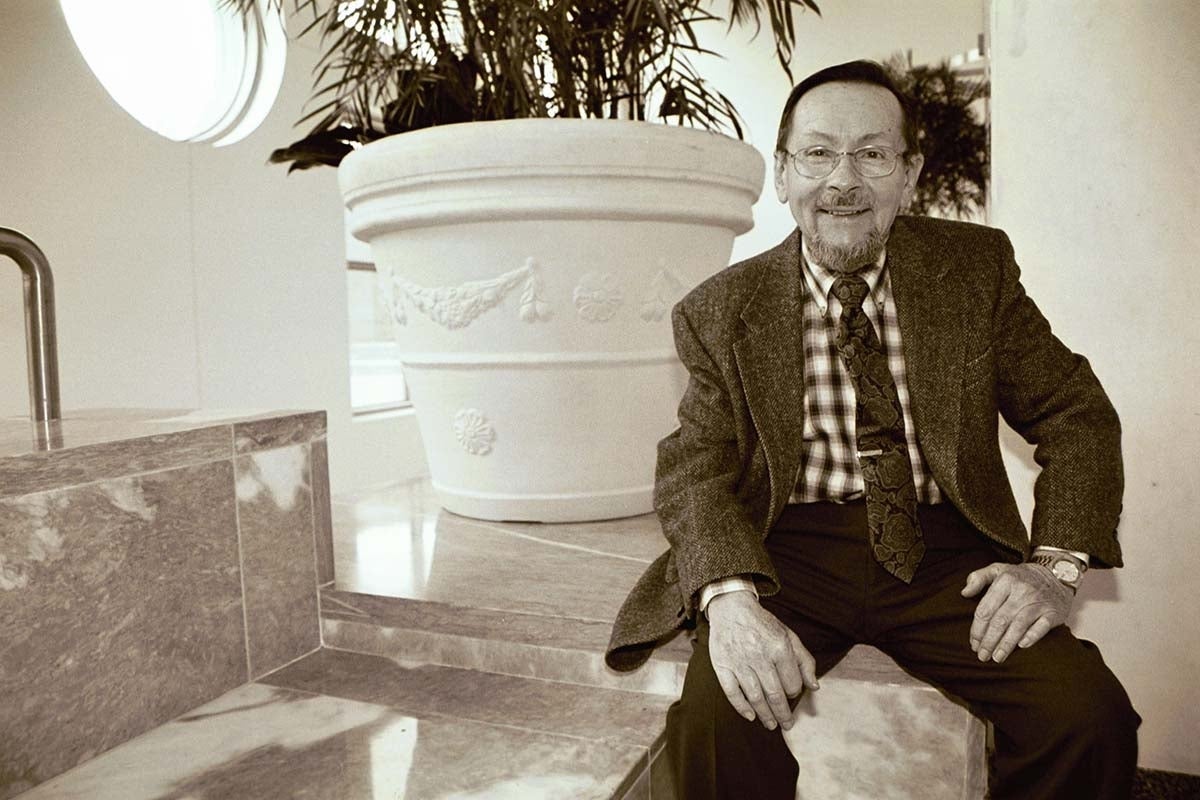 In addition, several colleagues shared heartwarming or funny memories.
When she was first appointed at Annenberg, Carolyn Marvin, Ph.D., had an unusual hair style for an academic at the time: it was dyed several bright colors – blue, green, yellow. Marvin, the Francis Yates Professor of Communication, remembered being concerned about the faculty's possible reaction to her hair. "Charlie looked at me very sternly," she said, "and told me, no one is looking at your hair."
Marvin was the only female faculty member at the time, and holding a junior position at that, so Wright's words were powerful for her. "Charlie sent a message to me that it would only be my intellectual contributions that the faculty would be interested in," she said, "and that was very reassuring to me."
Kathleen Hall Jamieson, Ph.D., is Elizabeth Ware Packard Professor of Communication at Annenberg and Director of the Annenberg Public Policy Center. She recalled a time when her son pretended to be Wright's nephew in order to be allowed to visit him in the hospital. Jamieson laughed, talking about how if her son were Wright's nephew, that would make her Wright's sister. "In fact," she said, "I would be proud to be your sister."
As the event drew to a close, Delli Carpini reminded the crowd that although Wright will no longer be teaching, he'll continue to be a familiar face at Annenberg, working in his office or attending faculty meetings.
"For those of you who have not had the opportunity to take a course with Charlie or get to know him," Delli Carpini said, "I strongly recommend that you make the time to talk to him."