Klaus Krippendorff Honored by Business Systems Laboratory
In addition to receiving an award, Krippendorff delivered a keynote address and led a content analysis workshop.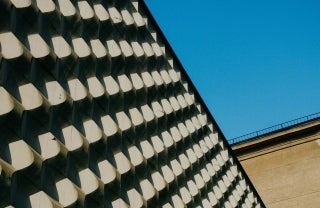 On August 25, Emeritus Professor Klaus Krippendorff, Ph.D., was honored by Business Systems Laboratory with a career achievement award for his work in advancing "Systems Thinking Applied to Communication."
Business Systems Laboratory, or BSLab, is an Italian nonprofit association that aims to bridge the gap between the business community and academia through the promotion of research and teaching. Each year, BSLab hosts an International Symposium to address global, economic, and social challenges through a systemic lens. The fourth annual symposium was held August 24-26 in Vilnius, Lithuania.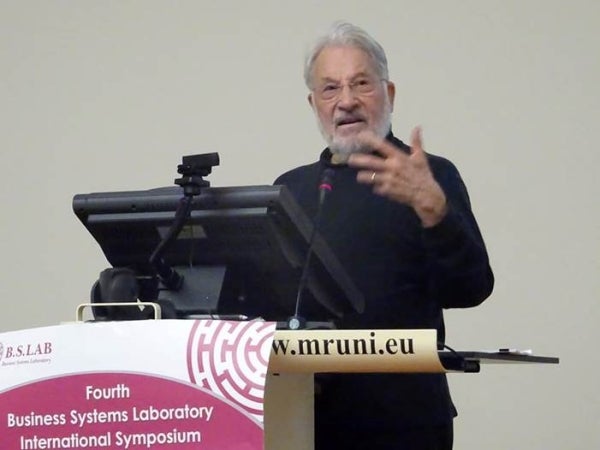 In addition to receiving his award at the symposium, Krippendorff, the Gregory Bateson Professor of Communication, was invited to give a keynote address titled, "Communicational Foundations of Viable Organizations."
In his talk, he took organizations to be discursive constructions that constitute themselves in the narratives of their networks of conversations among members. Taking a bottom-up approach to theories of social formations, he identified four requirements for any social organization to be viable: 
Optimizing the institutionalizations and algorithmizations of its recurrent practices
The ability to continuously reconstitute itself in networks of conversation within its self-defined boundary while remaining open to flows of information, material and human resources
Assuring that its members remain inspired by making meaningful contributions to their evolving organization
Preserving the possibility of conversations capable of questioning current organizational practices and innovating discursively constructed realities
Following the completion of the symposium, Krippendorff — a pioneer in the development and application of content analysis — traveled to the University of Palermo on the Italian island of Sicily to lead a "Content Analysis School," also hosted by BSLab. Held August 29-31, it was attended by twenty-two European scholars who brought their own projects to the event.