Zelizer Named Fellow of The British Academy
Professor Barbie Zelizer is one of 84 new fellows elected this year.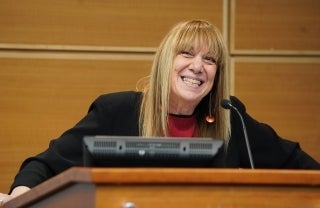 Professor Barbie Zelizer has been elected as a fellow of The British Academy in recognition of her contribution to the humanities and social sciences.
Founded in 1902, the British Academy is the United Kingdom's national academy for the humanities and social sciences. It is a fellowship of over 1400 of the leading minds in these subjects from the U.K. and overseas. Current fellows include the classicist Professor Dame Mary Beard, the historian Professor Sir Simon Schama, and the philosopher Professor Baroness Onora O'Neill. Previous fellows include Dame Frances Yates, Sir Winston Churchill, Seamus Heaney, and Beatrice Webb. The Academy is also a funding body for research, nationally and internationally, and a forum for debate and engagement. 
This year, a total of 84 fellows — 52 U.K. Fellows, 29 Corresponding Fellows, and 3 Honorary Fellows — have been elected to the fellowship. 
Welcoming the fellows, the new President of the British Academy, Professor Julia Black, said: "As the new President of the British Academy, it gives me great pleasure to welcome this new cohort of Fellows, who are as impressive as ever and remind us of the rich and diverse scholarship and research undertaken within the SHAPE disciplines — the social sciences, humanities, and the arts. I am very much looking forward to working with them on our shared interests."
Zelizer is the Raymond Williams Professor of Communication, Associate Dean for Research, and the Director of the Center for Media at Risk. A former journalist, her work focuses on the cultural dimensions of journalism, with a specific interest in journalistic authority, collective memory, and journalistic images in times of crisis and war.