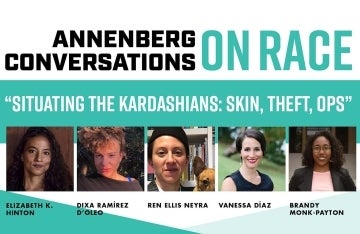 Annenberg Conversations on Race: Situating the Kardashians: Skin, Theft, Ops
Audience
Open to the Public
Featuring Elizabeth K. Hinton, Dixa Ramírez D'Oleo, Ren Ellis Neyra, Vanessa Díaz, and Brandy Monk-Payton
The event has ended, but is available to watch on YouTube:
About the Conversation
This roundtable explores how Kim Kardashian West extracts from Black women. In so doing, the panelists will situate the Kardashian enterprise in a long U.S. tradition of extracting and repackaging Black cultural forms for mass (white and violent) consumption, highlighting the particular harm their enterprise of white womanhood does to Black women. The conversation will be moderated by Brandy Monk-Payton.
Elizabeth K. Hinton will consider the implications of Kim Kardashian West's entre into the world of criminal legal reform, marking the first time any Kardashian has taken a public stance on a racial justice issue. Kardashian West has used her enormous social media platform, her reality television show, and a glossy new documentary to raise critical awareness about injustice in the U.S. Yet by positioning herself as a champion and "savior" for incarcerated people, Kardashian West's work in this sphere can be seen as another act of colonization and extraction, effectively erasing from popular view the lawyers, community organizers, and activists of color who have worked to transform prison conditions and elevate criminal justice disparities for decades.
Dixa Ramírez D'Oleo will situate Kardashian West alongside figures such as Carmen Miranda and the many white rumberas who rose to fame in the Golden Age of Mexican cinema, ultimately arguing that Kardashian West and some of her sisters exploit a legacy of the hypersexualized trope of the Caribbean and Latin American "mulata."
Ren Ellis Neyra will question: What is the historical place of white womanhood's corporeal scheme and white domesticity's ethical (in)coherence from which Kim wields racial influence? How can we think about her very legally protected white body's theft of Black women's forms and/as flesh in the anti-Black public sphere? How does the Houghtons/Kardashians/Jenners' capital frame multiracial white supremacist domesticity, and use the images of Black children of white motherhood?
Vanessa Díaz will draw on her experience as a reporter for People magazine and the research from her book Manufacturing Celebrity to situate Kardashian West both in the contemporary context of reality television stardom as well as historic Hollywood patterns of the white woman victim trope. With the Kardashian West/Ray J sex tape that made her famous as a jumping off point, Díaz will address how the entire Kardashian/Jenner family exploit stereotypes of Blackness in their very strategic manufacturing of their celebrity status. Building on Hinton's comments, Díaz will also discuss Kardashian West's relationship to Trump, and the ways in which the Trump and Kardashian families have similarly used the reality television platform and celebrity media to build their brands, while critiquing the very media that build their fame.
About the Speakers
Elizabeth K. Hinton
Elizabeth Hinton is Associate Professor of History and African American Studies at Yale University and Professor of Law at Yale Law School. She is a historian of American inequality who is considered one of the nation's leading experts on policing and mass incarceration. Hinton's past and current scholarship provides a deeper grasp of the persistence of poverty, urban violence, and racial inequality in the United States. She is the author of From the War on Poverty to the War on Crime: The Making of Mass Incarceration in America. Hinton's articles and op-eds can be found in the pages of the Journal of American History, the Journal of Urban History, The New York Times, The Atlantic, The New York Times Book Review, The Los Angeles Times, The Boston Review, The Nation, and Time.
Dixa Ramírez D'Oleo
Dixa Ramírez D'Oleo is Assistant Professor of American Studies and English at Brown University. She is a scholar of transnational Caribbean literatures and expressive cultures. Her first book, Colonial Phantoms: Belonging and Refusal in the Dominican Americas, from the Nineteenth Century to the Present (NYU Press, 2018), received the 2019 Barbara Christian Book Prize from the Caribbean Studies Association. Her writing has appeared in Comparative Literature, Small Axe, Los Angeles Review of Books, Hyperallergic, and is forthcoming in ASAP/Journal. She is in the midst of manifesting her second book project, Blackness in the Hills and the Photographic Negative, which is under contract with Duke University Press.
Ren Ellis Neyra
Ren Ellis Neyra is a poetic theorist working in the fields of Caribbean, African diaspora, and Latinx Studies. At Wesleyan University, they teach courses on poetics and aesthetics in the English Department. Their book, The Cry of the Senses: Listening to Latinx and Caribbean Poetics, is forthcoming with Duke University Press in November of 2020. Ellis Neyra has begun two new book projects, one provisionally titled, "Abuse, Poetics, and the American Domestic," which includes a chapter on the Kardashians, and the other, "Liquid: Unsovereign Caribbean Poetics and 'Chimerical Ecologies.'"
Vanessa Díaz
Vanessa Díaz is Assistant Professor of Chicana/o and Latina/o Studies at Loyola Marymount University. She is a multimedia ethnographer and journalist whose work focuses on issues of race, gender, and labor in popular culture across the Americas. Grounded in her experience as a red carpet reporter for People magazine, Díaz's first book Manufacturing Celebrity: Latino Paparazzi and Women Reporters in Hollywood focuses on hierarchies of labor as well as racial and gender politics in the production of celebrity-focused media. Díaz is a co-author of UCLA's 2017 Hollywood Diversity Report, director of the film Cuban HipHop: Desde el Principio, and the media editor for Transforming Anthropology. Her research has been profiled in such outlets as the Atlantic, the Los Angeles Times, and NBC News/NBC Latino. 
Brandy Monk-Payton
Brandy Monk-Payton is Assistant Professor in the Department of Communication and Media Studies at Fordham University. Her research focuses on race and celebrity as it relates to African American media representation and cultural production across television, film, and digital media. Her work has been published in edited collections such as Unwatchable and From Madea to Media Mogul: Theorizing Tyler Perry as well as the journals Film Quarterly, Feminist Media Histories, and Communication, Culture and Critique. 
About Annenberg Conversations
A new series at the Annenberg School, Annenberg Conversations engage Communication research and scholarship on topical issues together with a wide variety of individuals outside of Annenberg — including academics, activists, artists, and many others. During the 2020-21 academic year, the topic will be race in America.
Annenberg Conversations on Race events are dialogues designed to examine the current state of anti-Black racism in various sectors of society. Each conversation will feature a member of the Annenberg Community together with one or more interlocutors from outside the school, drawing upon diverse perspectives, experiences, and expertise that highlight the role of communication and mass mediation in processes of racism and racialization.   
These conversations will provide space to speak and listen together to engage the myriad tensions and intersections of communication themes and racial formations.
Future conversations include: