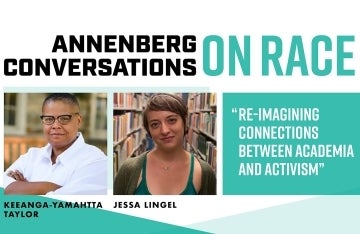 Annenberg Conversations on Race: Re-Imagining Connections between Academia and Activism
Audience
Open to the Public
Featuring Keeanga-Yamahtta Taylor and Jessa Lingel
The event has ended, but is available to watch on YouTube:
About the Conversation
This conversation will address re-imagining connections between academia and activism. Can one be a scholar and an activist at the same time? If so, how? If not, why not? What can contemporary scholar-activists learn from scholars and activists of the past who have tried to balance those two goals/trajectories at the same time?
About the Speakers
Keeanga-Yamahtta Taylor
Assistant Professor of African American Studies at Princeton University, Keeanga-Yamahtta Taylor is author of From #BlackLivesMatter to Black Liberation, which won the Lannan Cultural Freedom Award for an Especially Notable Book in 2016, and Race for Profit: How Banks and the Real Estate Industry Undermined Black Homeownership, which has been longlisted for a National Book Award for nonfiction. She is also editor of How We Get Free: Black Feminism and the Combahee River Collective, which won the Lambda Literary Award for LGBQT nonfiction in 2018. Read more about Taylor.
Jessa Lingel
Jessa Lingel is an associate professor at the Annenberg School for Communication, where she studies digital culture, looking for the ways that relationships to technology can show us gaps in power or possibilities for social change. In her activist work, Lingel concentrates on prison abolition, libraries as vehicles for DIY education, and local access to mental health resources. Read more about Lingel.
About Annenberg Conversations
A new series at the Annenberg School, Annenberg Conversations engage Communication research and scholarship on topical issues together with a wide variety of individuals outside of Annenberg — including academics, activists, artists, and many others. During the 2020-21 academic year, the topic will be race in America.
Annenberg Conversations on Race events are dialogues designed to examine the current state of anti-Black racism in various sectors of society. Each conversation will feature a member of the Annenberg Community together with one or more interlocutors from outside the school, drawing upon diverse perspectives, experiences, and expertise that highlight the role of communication and mass mediation in processes of racism and racialization.   
These conversations will provide space to speak and listen together to engage the myriad tensions and intersections of communication themes and racial formations.