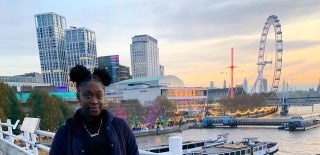 Study Abroad & Transfer Credit
Study Abroad & Transfer Credit
Above: Khristina Spence (C'21) studied abroad at Goldsmiths, University of London in Fall 2019 
Study Abroad
Through Penn Abroad, Communication Majors have studied all over the world, including in London, Barcelona, Tel-Aviv, Seoul, Hong Kong, Australia, and Argentina. Students who study abroad earn Penn course credit while gaining cultural competence, enhancing language skills, and developing valuable skills such as creative problem-solving and adaptability.
Communication majors typically study abroad during the Fall or Spring semester of their junior year, in order to take advantage of other opportunities available to our majors, such as the senior honors thesis, which is completed over two semesters during senior year.
Majors who choose to study abroad are encouraged to take at least one approved Comm course towards the 200-level (intermediate level) major requirements. Alternatively, courses approved by other Penn departments for credit can be considered for Non-Comm elective major requirements. No more than three courses from outside universities (study abroad, transfer credits, or summer courses) will be accepted for the major. Courses must be approved before travel abroad occurs.
Majors interested in studying abroad should begin preparing by taking the following steps: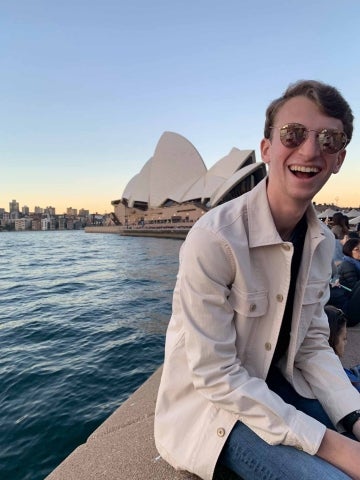 "Studying in Sydney, Australia was an experience I will never forget. It was fascinating to learn about media from another country's perspective, and the classes I took were amazing additions to my curriculum at Annenberg. Getting to study during Australian summer never hurts, either." — Justin Cohen C'21
Transfer Credit for Courses Taken outside Penn
Courses taken outside the University of Pennsylvania may be considered for credit. These include courses taken for study abroad, courses completed at other universities by students transferring to Penn, and summer courses taken at other universities.
Which courses qualify for Communication credit?
Communication credit is limited to courses judged to be academically comparable in scope, rigor and general focus to those typically offered at the Annenberg School.
Credit is not given for some courses offered as Communication courses elsewhere (e.g., advertising, marketing, business communication, literature, public speaking/rhetoric, interpersonal/intercultural communication, practical skills in journalism). These courses may be more appropriately considered for credit by another school or department at the University of Pennsylvania.
Credit is not given for practical media production courses without theoretical underpinnings (e.g., photography, film production).
Credit is not usually given for online courses. However, exceptions may be made for online credit away courses taken during the summer at other schools.
No more than three credits from outside universities may be used to fulfill Communication Major credit. These include courses completed at other universities by students transferring to Penn, summer courses taken at other universities, and courses taken for study abroad.
How can I request transfer credits?
To request transfer credit, students must login to XCAT (External Course Approval Tool) and submit all course syllabi and other supporting materials. Students seeking transfer credit for study abroad or summer courses must submit all supporting materials via XCAT in advance of enrollment.
Evaluation of a current and complete syllabus of the course is required for final approval. All submitted course materials must be in English. (Course materials that are not in English must be translated before submission.)
Syllabi should include:
A complete list of weekly assigned readings and topics of discussion
Detailed instructions for projects, papers, and other assignments
Advance approval for study abroad or outside summer courses is required. Students who fail to obtain credit approval via XCAT before registering for a Communication course outside of Penn may not fulfill major requirements because the courses for which they registered do not meet the threshold for School approval.
Which requirements can transfer credits fulfill?
Approved study abroad course credits are normally assigned the number COMM 2985. Approved transfer and study away course credits are normally assigned the number COMM 2995.  Students can complete up to three COMM 2985 or COMM 2995 courses toward their Comm major elective requirements.
Alternatively, approved courses may count for elective credit that helps fulfill degree requirements. A maximum of three credits completed at other universities will be counted towards Comm Major requirements.
Both COMM 2985 and COMM 2995 provide intermediate level major credit for courses. After completing the course, students can, in rare cases, petition for a course to provide 3000 level credit. Students seeking Communication major credit at the 3000 level must submit completed final papers and a detailed syllabus for the course for review by Dr. Kim Woolf.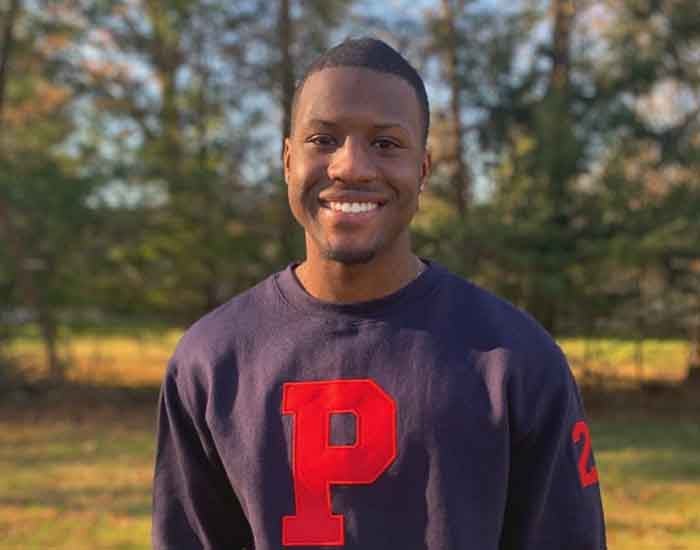 Eye-Opening Experience
"My term studying abroad in London was a fruitful, eye-opening experience that will forever highlight my Comm career. The courses in London were invigorating and provided me a different perspective on communication studies. Outside of the classes, it was gratifying to acclimate to British culture. I learned many life lessons from leaving my comfort zone in my study abroad experience and met so many kind-hearted, talented, and brilliant peers, professors, and people." — Winston Britton C'21, New Hempstead, NY