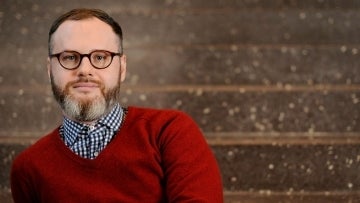 Center for Media at Risk Colloquium: Roman Horbyk, Örebro University
October 10, 2022
12:15pm-1:15pm
Annenberg School, Room 300
"The Unexpected Weapon: Hybridization of Civilian and Military Mobile Phone Use in the Russo-Ukrainian War"
About the Talk
The Russo-Ukrainian War has produced significant evidence of the broad and unorthodox use of media infrastructure and communication technology since 2014. Its latest phase, the ongoing full-scale invasion of Ukraine by Russia, is developing many of the communication trends known from the annexation of Crimea and war in Donbas (more limited and hybrid) while reversing some of them at the same time. In this presentation, which summarizes the findings of a two-year research project involving participant observation on the frontline and interviews with military, civilian and government personnel, I will focus on the major trends highlighting how a mobile phone—an ordinary civilian device—has become weaponized and turned into a hybrid tool that integrates a number of peaceful and combat functions. 
About the Speaker
Roman Horbyk  is a Senior Lecturer at Örebro University (Sweden). His published studies are interdisciplinary and focus on various aspects of postcolonial theory, gender studies, sociolinguistics, media power, history of representations and ideas. Roman has also extensively worked as journalist, publishing articles in Ukraine, Sweden, Denmark, Germany and Brazil.  Horbyk's current research project deals with how mobile phones are used by Ukrainian soldiers and civilians in war. A study based on it received the Top Paper award at International Communication Association's annual conference in Paris, 2022.
Disclaimer: This event may be photographed and/or video recorded for archival, educational, and related promotional purposes. We also may share these video recordings through Annenberg's website or related platforms. Certain events may also be livestreamed. By attending or participating in this event, you are giving your consent to be photographed and/or video recorded and you are waiving any and all claims regarding the use of your image by the Annenberg School for Communication. The Annenberg School for Communication, at its discretion, may provide a copy of the photos/footage upon written request.