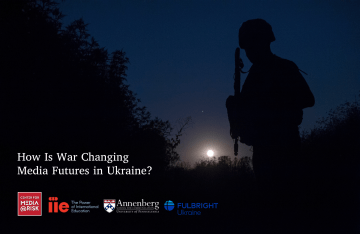 Center for Media at Risk Forum: How is War Changing Media Futures in Ukraine?
April 13-14, 2023
5:00pm-1:00pm
Annenberg School, Room 109 + Forum
Audience
Open to the Public
Photography Exhibit Opening and Media Futures Forum
Organized by the Center for Media at Risk and the Fulbright Program in Ukraine, "How is War Changing Media Futures in Ukraine?" is a two-part event beginning Thursday, April 13 with a photography exhibit opening and curator discussion and continuing Friday, April 14 with sessions on the topics of documentary filmmaking, media scholarship and fact-checking. The exhibit will remain on view in the Annenberg School Forum through the end of the semester. We hope you can join us! 
Thursday, April 13
Bearing Witness: Photographs from Ukraine
In wartime, a photograph takes on meaning that far eclipses the scene at hand. A photo can serve as proof, or it can disprove. It can provide context, or it can obscure. It can shape, or be shaped by, our conception of how things are and how the world works. One thing is clear: in times of war, the messages conveyed through images carry extra weight and have real-life consequences.
"Bearing Witness: Photographs from Ukraine" is a collection of moments in time -- tragic and heroic, devastating and hopeful – that demonstrate the power and durability of the wartime photograph and offer an opportunity to witness the war in Ukraine through the lens of those who were there. The photos in this exhibit were taken in Ukraine between 2014-2023 by Fulbright Program alumni Jenn (J.T.) Blatty, Alexey Furman, Brendan Hoffman, Serhii Korovayny, Oksana Parafeniuk, Joseph Sywenkyj and Emine Ziyatdinova. The selected images map the trajectory of the conflict, from mounting tensions following the Euromaidan protests to developments in the wake of Russia's current invasion of Ukraine. Interspersed throughout are images of devastation and resilience that are set against the sprawling post-industrial landscapes of Ukraine's occupied Donetsk and Luhansk regions.
An earlier version of this exhibit was first displayed in 2022 at the Vinnytsya Regional History Museum under the title "War and Resistance." This exhibit has been made possible through collaboration between the Fulbright Program in Ukraine and the Center for Media at Risk at the Annenberg School for Communication.
5:15–6:15pm | Welcome + Curator Discussion
Rymma Mylenkova, Curator 
J.T. Blatty, Photojournalist
Joel Santana-Mondo, Program Officer, Fulbright Student & Scholar Programs
6:15-7:30pm | Gallery Opening + Reception
Friday, April 14
9:30-10:00am | Breakfast
10:00-10:15am | Introduction
Barbie Zelizer, Director, Center for Media at Risk
10:15-11:15am | DOCUMENTARY FILMMAKING
Olena Lysenko, Independent Documentary Filmmaker
Jason Blevins, Independent Documentary Filmmaker
Filmmakers Olena Lysenko and Jason Blevins will screen their documentary "I Never Had Dreams of My Son."(New Yorker, 17 mins) The film follows the story of a Ukrainian father in his search for his son, who disappeared during the Battle of Ilovaiska in eastern Ukraine in 2014. After the screening of "I Never Had Dreams of My Son," director Jason Blevins and producer Olena Lysenko will discuss their experience working on the film, offer insights into the risks and challenges of mediamaking in times of conflict and consider the future of documentary filmmaking in Ukraine. 
11:15-11:30am | Coffee Break in Forum

11:30am-12:15pm | JOURNALISM PRACTICE AND SCHOLARSHIP
Dariya Orlova, Senior Lecturer, Mohyla School of Journalism, National University of Kyiv-Mohyla Academy
Russia's war on Ukraine has not only damaged the country's physical landscape, but it has also critically disrupted Ukraine's media landscape. Since Russia invaded, more than 200 local media outlets have shut down, university media and journalism departments have had to change the way they operate and countless practitioners have left the profession. Now in the war's second year, Ukrainian media scholarship and journalism are largely functioning in survival mode as new, hopefully post-war, avenues for practice are yet to be defined. 
This presentation explores the emerging contours and new avenues for media scholarship and journalism in Ukraine, even though the fog of war remains dense.
12:15-1:00pm | FACT CHECKING
Yevhen Fedchenko, Director, Mohyla School of Journalism, National University of Kyiv-Mohyla Academy
Disinformation has been a consistent and integral feature of Russia's war against Ukraine even before it launched its full-scale military invasion of the country in February 2022.
But, since 2014, the Ukrainian fact-checking site StopFake.org has been working to identify the main narratives, actors and platforms in the Russian disinformation ecosystem and has used this data to fight back against the information warfare doctrine. Fact-checkers at StopFake established an early-warning system and have been raising awareness about spotting disinformation and fostering resilience among Ukrainian citizens. Fact-checking has also played a large role in flagging disinformation as untrue for international audiences and rejecting Russia's false explanations for its military aggression against Ukraine. This talk examines how the team at StopFake monitors Russian disinformation and used the resulting data for the assessment of kinetic war efforts and the creation of a public database of debunked stories as public record.
1:00-2:00pm | LUNCH
Disclaimer: This event may be photographed and/or video recorded for archival, educational, and related promotional purposes. We also may share these video recordings through Annenberg's website or related platforms. Certain events may also be livestreamed. By attending or participating in this event, you are giving your consent to be photographed and/or video recorded and you are waiving any and all claims regarding the use of your image by the Annenberg School for Communication. The Annenberg School for Communication, at its discretion, may provide a copy of the photos/footage upon written request.