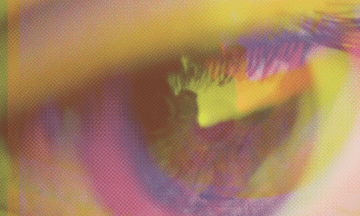 Opening Reception for "Selective Attention: Interventions into the Computational Gaze"
October 18, 2022
5:15pm-7:00pm
Annenberg School, Room 500
Audience
Open to the Public
Featuring the work of Kelsey Halliday Johnson, Lisa Marie Patzer and Roopa Vasudevan 
About the Exhibit
Algorithms and computation are driving more and more of our daily decision-making processes than ever before. The digital, in many ways, can almost be considered a filter: guiding the choices we make and the opportunities we are allowed to see, rendering certain practices hypervisible and "natural" while obscuring others.
This exhibition features three artists with deep connections to Philadelphia, who surface tensions between what is visible to the computer eye and what we are able to see and interpret as human beings. The work asks the viewer to consider how the intervention of the digital into practices that have traditionally centered human vision changes the way we see, interpret and understand — and, by the same token, what could be possible if humans insisted on claiming their own gaze within processes that attempt to exclude them altogether.
This exhibition was organized by Roopa Vasudevan, Annenberg PhD candidate and Center for Media at Risk Steering Committee member.
About the Artists
Kelsey Halliday Johnson is an artist, writer, eco-feminist and cultural strategist currently living and working on the land of the Wabanaki Confederacy in Maine, where she is the Executive Director of the multi-disciplinary art organization SPACE. Johnson's work explores themes about human perception, our evolving understanding of the verisimilitude and function of the photographic medium and our mediated relationship to the landscape. Her work has been exhibited at the Center for Maine Contemporary Art, Rosenwald-Wolf Gallery, Bakery Photo Collective, Vox Populi, the Berman Museum of Art, the Delaware Art Museum, the Philadelphia Photo Arts Center, the Academy of Natural Sciences, the Delaware Contemporary, EXPO Chicago and more. With research at the heart of her cultural practice, Johnson splits her time between organizing projects with other artists, exploring art historical perspectives on topics of interest and initiating personal creative projects that range from tinkering with electronics to old fashioned film photography. She initiated and curated the multi-site project Making/Breaking the Binary: Women, Art & Technology (1968-85), which garnered a grant from the Pew Center for Arts and Heritage, and she continues to work amplifying the legacy of womxn and queer voices at the intersection of art and tech. kelseyhalliday.com / Instagram: @plutobandit
Lisa Marie Patzer employs a variety of technological formats to sort out and make visible ideas that are significant to understanding historic, cultural and social spheres of influence. Her initial inspirations are in both analog and new media technologies, which she then unpacks through other mediums such as digital prints, video and installation. In uncovering the functionality of the technology, Patzer reveals how the nuances of those systems can be correlated to the capabilities of our senses. Her current work explores the use of machine learning technologies and computer vision to "see" archival images and textile patterns. Harvesting scans from collections such as found-footage films and wallpaper pattern samples, she creates custom data sets to train computer machine learning algorithms to generate new images and patterns, yielding formal and conceptual connections that beguile the viewer. A 2019 Pew fellow and researcher for the Code / Art Research Program, Patzer in 2018 became the first video artist in residence at Icebox Project Space, producing a large-scale exhibition exploring the history of surveillance technology and the 4th Amendment. In 2020 she was awarded a grant from the Sachs Program for Arts Innovation at the University of Pennsylvania. She currently works out of The Studios @ The Delaware Contemporary Art Museum. lisamariepatzer.com / Instagram: @profileglitch
Roopa Vasudevan is a South Asian-American media artist, computer programmer and researcher, currently based in Philadelphia. Her work examines social and technological defaults; interrogates rules, conventions and protocols that we often ignore or take for granted; and centers humanity and community in explorations of technology's impacts on society. Through a varied creative toolkit that includes data collection practices, systems design, web development and remix, she seeks to emphasize personal and human experiences, often on an individual or local level, in a time of Big Data and surveillance capitalism. Vasudevan is currently a member artist at Vox Populi, one of Philadelphia's longest-operating collectively-run arts spaces; a 2020 Eyebeam Rapid Response for a Better Digital Future Fellow (Phase 1); a Mellon Foundation–Simon Fraser University Artist Fellow as part of the Data Fluencies Project; and a member of the Art & Code track at NEW INC, the art and technology incubator at the New Museum (New York, NY). She is a PhD candidate at the Annenberg School for Communication at Penn, where her dissertation focuses on the relationships between new media artists and the technology industry, and where she is a member of the Steering Committee for the Center for Media at Risk. roopavasudevan.com / Instagram: @rouxpz
About Iffy Books
Iffy Books is a bookshop in Philadelphia offering a small selection of books and zines on hacking, free culture, gardening and adjacent topics.
At Iffy Books, we believe in empowering people to be less reliant on big tech companies.
We believe in expanding the commons.
We like decentralization but dislike blockchains.
We believe in meeting your neighbors and sharing knowledge afk (away from keyboard).
We host workshops and tutorials on a regular basis. For more information and to join the mailing list, visit iffybooks.net; follow us at @iffybooks on Instagram and Twitter; or visit the store at 319 N. 11th Street, 3E.
 
Disclaimer: This event may be photographed and/or video recorded for archival, educational, and related promotional purposes. We also may share these video recordings through Annenberg's website or related platforms. Certain events may also be livestreamed. By attending or participating in this event, you are giving your consent to be photographed and/or video recorded and you are waiving any and all claims regarding the use of your image by the Annenberg School for Communication. The Annenberg School for Communication, at its discretion, may provide a copy of the photos/footage upon written request.