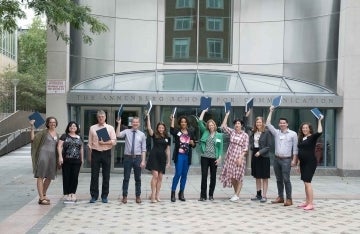 Professional Development Day 2021
September 17, 2021
9:30am-2:00pm
Audience
Annenberg Students & Postdocs
In an annual tradition, we bring back 10 of our accomplished alumni to share career advice with current students and postdocs.
For more information about the event, please contact Murali Balaji. Thank you to our Professional Development Student Committee who helped plan the event: Arlene Fernandez, Staci Jones, and Mohammed Salih.
Schedule
Morning Session - 9:30 - 11:00am
Welcomes and Morning Keynote: What is the future value of a Ph.D in a polarized world?
In the era of ideological and political tribalism and rejection of knowledge capital, having a doctorate can sometimes feel like a double-edged sword. Our panel discusses the ways in which the value of a doctorate has changed and what the future holds for ASC alumni amidst economic and social turbulence in the years ahead.
Speakers:
Khadijah Costley White (Ph.D. '13), Associate Professor of Communication and Media Studies, Rutgers University School of Communication and Information
Claire Wardle (Ph.D. '04), Co-founder and Director, First Draft News; Lecturer, Annenberg Undergraduate Program
Rocio Nuñez-Shea (Ph.D. '15), Lecturer & Internship Supervisor, Annenberg Undergraduate Program
Breakouts: 11:05am - 12:05pm
Breakout 1 - From the other side: What do academic job committee members look for in a candidate? 
This panel will host more senior academics who have significant experience being on job committees over the years. They will talk about what matters most to a member of a job committee during the selection process. What qualities do they look for in a suitable/ideal candidate? How are decisions made among committee members? What do job applicants need to be aware of? 
Speakers:
Emory Woodard (Ph.D. '98), Associate Professor in Communication and Dean, Graduate Studies in Liberal Arts & Sciences, Vilanova University
Lynne Edwards (Ph.D. '95), Professor of Media & Communication Studies, Ursinus College
Breakout 2 - Joining think tanks and advocacy organizations after your Ph.D 
How can a PhD holder with interest in policy join a think tank or an advocacy organization? This panel discuss the advantages and/or disadvantages of joining a think tank or advocacy organization versus a more academic position such as a postdoc.
Speakers:  
Ali Perelman (Ph.D. '13), Executive Director, Philadelphia 3.0
Paul Falzone (Ph.D. '08), Executive Director, Peripheral Vision International
Susana Dilliplane (Ph.D. '12), Deputy Director, Aspen Planning and Evaluation Program, Aspen Institute
Breakout 3 (for Postdocs only) - The dreaded third space: How to navigate a crowded market with a postdoc*
* Please note that this panel starts at 11:30am 
Postdocs are frequently competing with doctoral candidates and ABDs for academic and non-academic positions. Our panel shares tips on how to separate yourself from the pack when looking for that role after your postdoc. 
Speakers:
Shane Mannis (Ph.D. '16), Senior User Experience Researcher, Instagram
John Christensen (Gerbner Postdoc 2011-12), Associate Professor, Department of Communication, University of Connecticut
Lunch Reception: 12:45 - 2pm
If you are in the Philadelphia area, please join us for an outdoor reception in the Annenberg Courtyard, where attendees can mingle safely while taking boxed lunches. 
Disclaimer: This event may be photographed and/or video recorded for archival, educational, and related promotional purposes. We also may share these video recordings through Annenberg's website or related platforms. Certain events may also be livestreamed. By attending or participating in this event, you are giving your consent to be photographed and/or video recorded and you are waiving any and all claims regarding the use of your image by the Annenberg School for Communication. The Annenberg School for Communication, at its discretion, may provide a copy of the photos/footage upon written request.