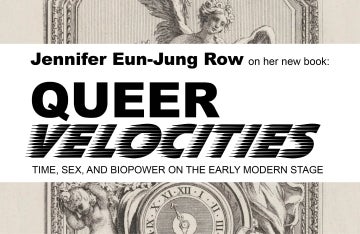 Queer Velocities: Time, Sex, and Biopower on the Early Modern Stage, with Jennifer Eun-Jung Row
February 8, 2023
3:30pm-4:30pm
Audience
Open to the Public
The Program for Gender, Sexuality & Women's Studies, The Department of English, and the Annenberg School for Communication present Jennifer Eun-Jung Row on her new book, "Queer Velocities: Time, Sex, and Biopower on the Early Modern Stage"
About the Book
Queer Velocities: Time, Sex, and Biopower on the Early Modern Stage explores how seventeenth-century French theater represents queer desire. In this book, the first queer theoretical treatment of canonical French theater, Jennifer Eun-Jung Row proposes that these velocities, moments of unseemly haste or strategic delay, sparked new kinds of attachments, intimacies, and erotics. Rather than rely on fixed identities or analog categories, we might turn to these affectively saturated moments of temporal sensation to analyze queerness in the premodern world.
The twin innovations of precise, portable timepieces and the development of the theater as a state institution together ignited new types of embodiments, orderly and disorderly pleasures, and normative and wayward rhythms of life. Row leverages a painstakingly formalist and rhetorical analysis of tragedies by Jean Racine and Pierre Corneille to show how the staging of delay or haste can critically interrupt the normative temporalities of marriage, motherhood, mourning, or sovereignty—the quotidian rhythms and paradigms so necessary for the biopolitical management of life. Row's approach builds on the queer turn to temporality and Elizabeth Freeman's notion of the chronobiopolitical to wager that queerness can also be fostered by the sensations of disruptive speed and slowness. Ultimately Row suggests that the theater not only contributed to the glitter of Louis XIV's absolutist spectacle but also ignited new forms of knowing and feeling time, as well as new modes of loving, living, and being together.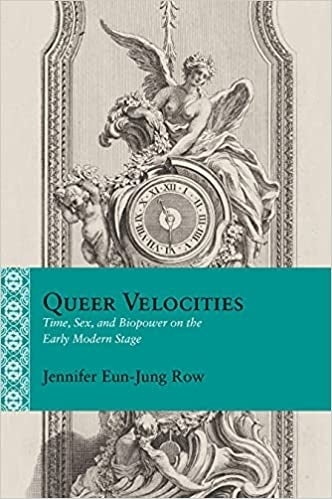 Disclaimer: This event may be photographed and/or video recorded for archival, educational, and related promotional purposes. We also may share these video recordings through Annenberg's website or related platforms. Certain events may also be livestreamed. By attending or participating in this event, you are giving your consent to be photographed and/or video recorded and you are waiving any and all claims regarding the use of your image by the Annenberg School for Communication. The Annenberg School for Communication, at its discretion, may provide a copy of the photos/footage upon written request.