Annenberg Alumni News, Fall 2020
The latest news from Annenberg School graduate alumni.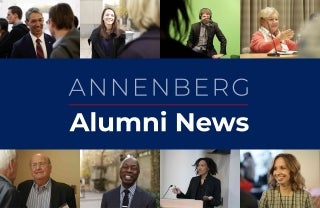 We love to hear from our alumni! To share your news with us, please click here.
1960-1969
Bill Boggs (M.A.C. '64), television host, journalist, and author, published his fourth novel, The Adventures of Spike the Wonder Dog: As Told to Bill Boggs. The novel follows the adventures of Spike, an English Bull Terrier, who skyrockets to fame.
Founder of Georgetown's Business for Impact, Bill Novelli's (M.A.C. '64) forthcoming book, Good Business: The Talk, Fight, Win Way to Change the World, is available now for pre-order. The book considers how individuals and companies can create social impact regardless of one's sector of business.
1970-1979
Jack Narvel (M.A.C. '71) published his first book, Like Eating Jelly With Chop Sticks. The novel, narrated by Narvel, will soon be available through Audible Books.
The American Sociological Association posthumously awarded Charles Goodwin (Ph.D. '77) the 2019 Distinguished Book Award. Goodwin retired in 2017 as a Distinguished Professor of Communication at the University of California Los Angeles.
1980-1989
Professor of Childhood Studies at Rutgers University Camden, Dan Cook (M.A.C. '88) edited the SAGE Encyclopedia of Children and Childhood Studies. The reference publication is comprised of 1.1 million words with nearly 600 entries.
1990-1999
Michael H. Baron (M.A.C. '94) completed a doctoral degree in Leadership and Learning in Organizations at the Peabody College of Education and Human Development at Vanderbilt University. Baron is a Senior Instructor in Data Analytics, Data Science, and Business Analytics at Cornell University.
Jennifer Khoury (M.A.C. '97) was promoted to Chief Communications Officer at Comcast Corporation. Khoury joined Comcast Corporation over twenty years ago, and she has overseen the creation of departments such as the company's corporate digital communications team.
Media and entertainment company Entercom appointed Idil Cakim (M.A.C. '98) its Senior Vice President of Research and Insights. Cakim joined Entercom from Nielsen where she served as Vice President of Media Analytics Consulting.
2000-2010
Dannagal Young (Ph.D. '07), Associate Professor of Communication at the University of Delaware, gave a TED Talk entitled "The Psychological Traits that Shape Your Political Beliefs."
Paul Falzone (Ph.D. '08), founder and Executive Director of Peripheral Vision International, was featured in the Pennsylvania Gazette. The profile covers Falzone's hacking of international media (soap operas, films, and music) in order to produce prosocial content for sub-Saharan African audiences.
Nicole Maurantonio (Ph.D. '08), Associate Professor of Rhetoric and Communication Studies and American Studies at the University of Richmond, published a new book entitled Confederate Exceptionalism: Civil War Myth and Memory in the Twenty-First Century.
Jasmine Nichole Cobb (Ph.D. '09), Bacca Foundation Associate Professor at Duke University, gave an Elihu Katz Colloquium address at the Annenberg School about the politics of the afro, and the cultural and capitalist significance of Black hair.
Robin Stevens (Ph.D. '09) received tenure and joined the faculty at the University of Southern California's Annenberg School as an Associate Professor of Communication. Stevens' research focuses on combining digital technologies and community-engagement to develop sexual, mental health, and substance misuse interventions for Black youth.
Cobb, Stevens, and Shawnika Hull (Ph.D. '10), Assistant Professor of Communication at Rutgers University, published "Masks are the New Condoms: Health Communication, Intersectionality and Racial Equity in COVID-times" in the Journal of Health Communication.
2011-2020
Assistant Professor of Journalism and Media Studies at Rutgers University, Khadijah White (Ph.D. '13) guest edited a special issue of Communication, Culture & Critique, for which she conducted a Q&A with Annenberg Professor Emeritus Oscar Gandy. In addition, White has been selected as a 2020-2021 Whiting Public Engagement Fellow.
Omar Al-Ghazzi (Ph.D. '16) joined the editorial team of the Middle East Journal of Culture and Communication. Al-Ghazzi is an Assistant Professor at The London School of Economics and Political Science.
Sun-ha Hong (Ph.D. '16), Assistant Professor of Communication at Simon Fraser University, gave a book talk sponsored by Annenberg's Center for Media at Risk and Center on Digital Culture and Society. The talk focused on his recently published book Technologies of Speculation: The Limits of Knowledge in a Data-Driven Society.
Sara Mourad (Ph.D. '16) wrote an article for the Rusted Radishes Beirut Literary and Art Journal. The non-fiction piece, entitled "AFTERSHOCK," covers the after effects of the Beirut explosion that occurred in August. Mourad is an Assistant Professor of Media Studies at the American University of Beirut.
Holli Seitz (Ph.D. '16), Assistant Professor at Mississippi State University (MSU), received MSU's Alumni Association's Early Career Undergraduate Teaching Excellence Award.
Jiaying Liu (Ph.D. '17), Assistant Professor of Communication Studies at the University of Georgia, received the National Institutes of Health's Career Award (K01). The award will support her research that employs neuroimaging approaches to improve prediction of smoking initiation and nicotine use escalation among young adult e-cigarette users.
Rosemary Clark-Parsons (Ph.D. '18) became a Program Manager at the Center for Social Impact Strategy at Penn's School of Social Policy and Practice. In addition, she has a book under contract with University of California Press.
A Lecturer in Media and Communication at the University of Leeds, Nour Halabi's (Ph.D. '18) first solo authored book is under contract with Rutgers University Press.
Clinical Professor of Communication Studies at Loyola Marymount University, Corrina Laughlin (Ph.D. '18) has a book under contract with University of California Press.
Elena Maris (Ph.D. '18), a postdoctoral researcher at Microsoft Research, and Tim Libert (Ph.D. '18), core faculty at the CyLab Security and Privacy Institute at Carnegie Mellon University, published "Tracking Sex: The Implications of Widespread Sexual Data Leakage and Tracking on Porn Websites" in New Media & Society.
The Association of Internet Researchers awarded Elisabetta Ferrari (Ph.D. '19) its 2020 Best Dissertation Award for "The Technological Imaginaries of Social Movements: The Discursive Dimension of Communication Technology and the Fight for Social Justice." In addition, Ferrari — a postdoctoral researcher at the University of Michigan's Digital Studies Institute — published "Sincerely Fake: Exploring User-Generated Political Fakes and Networked Publics" in Social Media + Society.
Two Annenberg alums, Emily Hund (Ph.D. '19) and Natacha Yazbeck (Ph.D. '20), began postdoctoral fellowships with Annenberg's Center for Digital Culture & Society.
The American Political Science Association (APSA) awarded Eunji Kim (Ph.D. '19) its 2020 Best Dissertation Award for "Entertaining Beliefs in Economic Mobility." Kim is an Assistant Professor at Vanderbilt University.
Yilang Peng (Ph.D. '19), published "The Importance of Trending Topics in the Gatekeeping of Social Media News Engagement: A Natural Experiment on Weibo" in Communication Research. Peng is an Assistant Professor at University of Georgia's College of Family and Consumer Sciences.
Sijia Yang (Ph.D. '19), Assistant Professor at the School of Journalism and Mass Communication at the University of Wisconsin-Madison, received the 2020 ICA and NCA Health Communication Divisions' Abby Prestin Dissertation of the Year Award for "Morality in Tobacco Control Messaging: Effects of Moral Appeals on Persuasion and Retransmission."
A postdoctoral fellow at the Woods Institute for the Environment, Natalie Herbert (Ph.D. '20) published "Leveraging Immersive Technology to Expand Access to Opioid Overdose Reversal Training in Community Settings: Results from a Randomized Controlled Equivalence Trial" in Drug and Alcohol Dependence.
Soojong Kim (Ph.D. '20), a postdoctoral fellow at Stanford University, published "Political Partisanship Influences Behavioral Responses to Governors' Recommendations for COVID-19 Prevention in the United States" in PNAS.
We love to hear from our alumni! To share your news with us, please click here.